Your 1-Stop For All Your Inspirational Needs
Inspiration Oasis is your special place where you can visit to have your spirits lifted. There are lots of inspirational quotes, heart-felt poems, motivational videos, and sections devoted to helping you develop key life skills to help you maintain a positive mental outlook on life. We will also provide you lots of reasons to celebrate life and laugh ;-)

If you like this ezine, please do a friend and me a big favor and "pay it forward."

If a friend forwarded this ezine to you and you like what you read, please subscribe by visiting my subscription page where you can view back issues and see the beautiful inspirational posters that are my gift of appreciation to you.

If you want a daily inspirational quote, follow @InspireOasis on Twitter.
Table of Contents
This issue is devoted to celebrating love.

There are 2 FREE printable posters about love for you, great love quotes, plus many great gift ideas to express your love to that special someone.



Top 5 Quotes on Love

Video - Tender Soul Mate Video

Let's Celebrate!

What's New

Great Gifts Ideas for the One You Love

Comments? Ideas? Feedback?




To gain access to this FREE printable poster (Love Is) with this quote,
click here and enter password "posters" (without the quotes).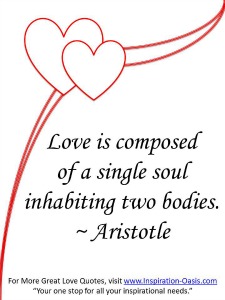 "Love is composed of a single soul inhabiting two bodies." ~ Aristotle


---

To gain access to this FREE printable poster (Grow Old with Me) with this quote, click here and enter password "posters" (without the quotes).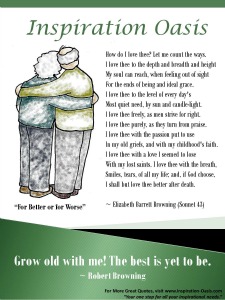 "Grow old with me! The best is yet to be." ~ Robert Browning

"How do I love thee?
Let me count the ways.
I love thee to the depth and breadth and height
My soul can reach, when feeling out of sight
For the ends of being and ideal grace.
I love thee to the level of every day's
Most quiet need, by sun and candle-light.
I love thee freely, as men strive for right.
love thee purely, as they turn from praise.
I love thee with the passion put to use
In my old griefs, and with my childhood's faith.
I love thee with a love I seemed to lose
With my lost saints. I love thee with the breath,
Smiles, tears, of all my life; and, if God choose,
I shall but love thee better after death."
~ Elizabeth Barrett Browning (Sonnet 43)


---
"Love is how you earn your wings." ~ Karen Goldman
The First Kiss,...
William Adolphe...
Buy This at Allposters.com
---
"Love is patient, love is kind...
it always protects, always trust,
always hopes, always perseveres.
Love never fails."
~ Bible - 1 Corinthians 13:4


Words to Live By,...
Maria Girardi
Buy This at Allposters.com




For more great quotes on Love, see:

Best Love Quotes

Engagement

Engagement Toasts

Marriage

Quotes About Love

Valentines Day



Check out this tender Soul Mate video. It is sure to warm your heart!

Whenever you need a quick motivational video, check out my 3-Minute Motivational Videos page.

I'm one who is always looking for reasons to celebrate. Here are some known and little known reasons to celebrate in February!

Did you know that the month of February has been deemed as National Heart Month? It makes sense, after all February is noted for Valentine's Day.

Why not decide that this February you are going to share more from the deep recesses of your heart?

Weekly Observances in the month of February:

February 7th – 14th - National Marriage Week

Special Days in February to Celebrate:

2/1/13 - National Freedom Day
2/2/13 - Groundhog Day
2/6/13 – Babe Ruth's Birthday (in 1895)
2/10/13 – Chinese New Year
2/11/13 – Don't Cry Over Spilled Milk
2/14/13 – Valentine's Day
2/16/13 – Do a Grouch a Favor Day
2/17/13 – Random Acts of Kindness Day
2/21/13 – Love Your Pet Day
2/22/13 – Be Humble Day


I hope some of these reasons to celebrate make you smile.

I don't know about you, but I'm celebrating Random Acts of Kindness Day, because I love putting a smile on other people's faces.

Often times, it is life's simplest pleasures that are remembered with the greatest fondness.

If you still are looking for a reason to celebrate… just remember:



"You can celebrate each and every day of your life
for no reason at all because life is precious
and worthy of being celebrated."
~ Linda Lovejoy



This last month I've been busy creating new pages and updating pages on my site that include:

Best Love Quotes

Teacher Appreciation Quotes

Valentines Day



Here are some of my favorite gift ideas to give to the one you love.

Personalized Photos with Love Quote

The photo cube and 4"x6" photo frame allows for the couples name and one of the following love quotes:

"Grow old with me,
the best is yet to be."
– Robert Browning

"Love is patient, love is kind,
love is forever, yours and mine."

"To love is to find pleasure
in the happiness of the person loved."
– Leibnix

"If I know what love is,
it is because of you."
– Herman Hesse



---

1 Dozen Long Stem Red Roses with Bear and Godiva - VASE INCLUDED - FedEx - $59.90
from: Flowers Fast.com-Send Flowers Same Day Delivery
A Dozen Roses Love Poem
One rose for the times we've shared and the memories we've made.
One rose for being someone I can trust.
One rose for accepting me as I am.
One rose for forgiving me the mistakes I've made.
One rose for taking the time to listen even when you don't understand or agree.
One rose for being there when I need you.
One rose for letting me be there when you need someone.
One rose for the hopes and dreams and feelings you share.
One rose for your actions that speak louder than words.
One rose for knowing when to speak and when to offer silence.
One rose for your smile that brings joy into my world.
And one rose for being one of life's most beautiful gifts.
Twelve roses because you are important to me and I love you.
~ Unknown Author

---
"If love is blind, why is lingerie so popular?"
~ Unknown
Show Your Devotion 
Let Your Honey Know You Belong to Them

---
Topaz And Garnet Personalized Romantic Ring:
Two Hearts Become Soul Mates
When two hearts become one, the power of love is forever binding. Now you can celebrate finding true love with your soul mate whenever you wear this topaz and garnet personalized romantic ring, a fine jewelry design available only from The Bradford Exchange.

To make your Two Hearts Become Soul Mates personalized couples ring extra special, we invite you to add an elegant engraving of your two names, a distinctive personal touch we provide for FREE.

---
I'd love to hear from you. Just reply to this ezine and tell me what you think!

See you next month!

Linda
Inspiration Oasis - Your 1-Stop For All Your Inspirational Needs