Engagement Quotes
Check out this collection of heart warming engagement quotes.
Find the perfect engagement quote or engagement toast for that happy couple!

Plan the perfect engagement party - lots of themes to choose from.
Love one another and you will be happy. It's as simple and as difficult as that.
~ Michael Leunig
Love is a game that two can play and both win.
~ Eva Gabor
You know you're in love when you can't fall asleep because reality is finally better than your dreams.
~ Dr. Seuss
The arms of love encompass you with your present, your past, your future, the arms of love gather you together.
~ Antoine de Saint-Exupéry, Southern Mail, 1929, translated from French by Curtis Cate
Candle light, moon light, star light,
The brightest glow is from love light.
~ Grey Livingston
Love works in miracles every day: such as weakening the strong, and stretching the weak; making fools of the wise, and wise men of fools; favouring the passions, destroying reason, and in a word, turning everything topsy-turvy.
~ Marguerite De Valois
All love that has not friendship for its base,
is like a mansion built upon the sand.
~ Ella Wheeler Wilcox
Love is the expansion of two natures in such fashion that each include the other, each is enriched by the other.
~ Felix Adler
We are all born for love...
it is the principle existence and it's only end.
~ Benjamin Disraeli
Love is the master key that opens the gates of happiness.
~ Oliver Wendell Holmes
In the arithmetic of love, one plus one equals everything, and two minus one equals nothing.
~ Mignon McLaughlin
Love reminds you that nothing else matters.
~ Amy Bushnell
If you have to think about whether you love someone or not, then the answer is no. When you love someone you just know.
~ Janice Markowitz
We find rest in those we love, and we provide a resting place in ourselves for those who love us.
~ Saint Bernard of Clairvaux
You come to love not by finding the perfect person, but by seeing an imperfect person perfectly.
~ Sam Keen

"Love is composed of a single soul inhabiting two bodies."
~ Aristotle

For this FREE 8.5" x 11" printable poster, sign up for my ezine.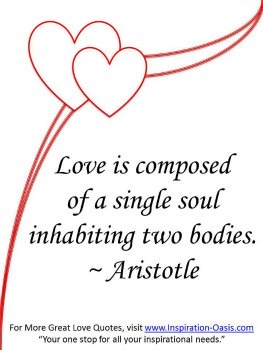 Return to Index of Engagement Quotes

The highest happiness on earth is marriage.
~ William Lyon Phelps

Marriage is not a noun;
it's a verb.
It isn't something you get.
It's something you do.
It's the way you love your partner every day.
~ Barbara DeAngelis
Marriage is that relation between man and woman in which the independence is equal, the dependence mutual, and the obligation reciprocal.
~ Louis K. Anspacher
The sum which two married people owe to one another defies calculation. It is an infinite debt, which can only be discharged through eternity.
~ Johann Wolfgang von Goethe
Return to Index of Engagement Quotes


"Grow old with me! The best is yet to be."~ Robert Browning
"How do I love thee?
Let me count the ways.
I love thee to the depth and breadth and height
My soul can reach, when feeling out of sight
For the ends of being and ideal grace.
I love thee to the level of every day's
Most quiet need, by sun and candle-light.
I love thee freely, as men strive for right.
I love thee purely, as they turn from praise.
I love thee with the passion put to use
In my old griefs, and with my childhood's faith.
I love thee with a love I seemed to lose
With my lost saints. I love thee with the breath,
Smiles, tears, of all my life; and, if God choose,
I shall but love thee better after death."

~ Elizabeth Barrett Browning (Sonnet 43)
For this FREE 8.5" x 11" printable poster, sign up for my ezine.
Return to Index of Engagement Quotes

His/Hers Engaged T-Shirts
It's official, the couple is engaged.

Why not give them His and Hers T-shirt to let the world know of their news?
Get a camera and catch a photo of the couple in their enaged T-shirts.
---
My heart to you is given:
Oh, do give yours to me;
We'll lock them up together,
And throw away the key.
~ Frederick Saunders
In all the world, there is no heart for me like yours. In all the world, there is no love for you like mine.
~ Maya Angelou
Return to Index of Engagement Quotes


True love stories never have endings.
~ Richard Bach
Time is too slow for those who wait, too swift for those who fear, too long for those who grieve, too short for those who rejoice, but for those who love, time is eternity.
~ Henry Van Dyke
Love is the emblem of eternity: it confounds all notion of time:
effaces all memory of a beginning, all fear of an end.
~ Germaine De Stael
The truth [is] that there is only one terminal dignity-love. And the story of a love is not important-what is important is that one is capable of love. It is perhaps the only glimpse we are permitted of eternity.
~ Helen Hayes
Return to Index of Engagement Quotes


For you see, each day I love you more
Today more than yesterday and less than tomorrow.
~ Rosemonde Gerard
Grow old with me! The best is yet to be.
~ Robert Browning
Love seems the swiftest but it is the slowest of all growths. No man or woman really knows what perfect love is until they have been married a quarter of a century.
~ Mark Twain
Return to Index of Engagement Quotes


I dreamed of a wedding of elaborate elegance,
A church filled with family and friends.
I asked him what kind of a wedding he wished for,
He said one that would make me his wife.
~ Unknown
Love doesn't make the world go 'round.
Love is what makes the ride worthwhile.
~ Franklin P. Jones
That is the true season of love, when we believe that we alone can love, that no one could ever have loved so before us, and that no one will love in the same way after us.
~ Johann Wolfgang von Goethe
Anyone can catch your eye, but it takes someone special to catch your heart.
~ Unknown
Let us be grateful to people who make us happy, they are the charming gardeners who make our souls blossom.
~ Marcel Proust
Return to Index of Engagement Quotes


Want to send a
REALLY Funny eCard?
Imagine the surprise on the recipient's face when they receive a hilarious ecard with their face and/or your face on the animated characters.
Must see!
"Laughter is the shortest distance between two people." ― Victor Borge
---
It's so great to find that one special person you want to annoy for the rest of your life.
~ Rita Rudner
Spouse: someone who'll stand by you through all the trouble you wouldn't have had if you'd stayed single.
~ Unknown
We are all a little weird and life's a little weird, and when we find someone whose weirdness is compatible with ours, we join up with them and fall in mutual weirdness and call it love.
~ Unknown
Gravitation is not responsible for people falling in love.
~ Albert Einstein
Marriage is an alliance entered into by a man who can't sleep with the window shut, and a woman who can't sleep with the window open.
~ George Bernard Shaw
Return to Index of Engagement Quotes


My whole heart for my whole life.
~ French saying used on posie rings
Two souls, one heart.
~ French saying used on posie rings
All you need is love.
~ Unknown
My love, my life, my friend.
~ Unknown
Return to Index of Engagement Quotes

Three rings of marriage are the engagement ring, the wedding ring, and the suffering.
~ Unknown
Long engagements give people the opportunity of finding out each other's character before marriage, which is never advisable.
~ Oscar Wilde
Return to Index of Engagement Quotes


[W]hen you realize you want to spend the rest of your life with somebody, you want the rest of your life to start as soon as possible.
~ Nora Ephron, When Harry Met Sally
A bell is no bell 'til you ring it,
A song is no song 'til you sing it,
And love in your heart
Wasn't put there to stay -
Love isn't love
'Til you give it away.
~ Oscar Hammerstein, Sound of Music, "You Are Sixteen (Reprise)"
Without love, what are we worth? Eighty-nine cents! Eighty-nine cents worth of chemicals walking around lonely.
~ M*A*S*H, Hawkeye
Return to Index of Engagement Quotes


A man without a wife is like a vase without flowers.
~ African Proverb
Grow old with me! The best is yet to be.
~ Robert Browning
We loved with a love that was more than love.
~ Edgar Allan Poe
Love is just a word until someone comes along and gives it meaning.
~ Anonymous
Return to Index of Engagement Quotes


Get Your Marriage Survival Kit!
Marriage is not just spiritual communion, it is also remembering to take out the trash.
~ Joyce Brothers
Remember, you married her, you didn't hire her!
~ Dr Phil (said to critical, controlling husband)
The secret of a happy marriage is finding the right person. You know they're right if you love to be with them all of the time.
~ Julia Child
Success in marriage does not come merely through finding the right mate, but through being the right mate.
~ Barnett R. Brickner
Return to Index of Engagement Quotes

Only two things are necessary to keep one's wife happy. One is to let her think she is having her own way, the the other, to let her have it.
~ Lydon B. Johnson
Chains do not hold a marriage together. It is threads, hundreds of tiny threads which sew people together through the years. That is what makes a marriage last --more than passion or even sex!
~ Simone Signoret
Find the person who will love you because of your differences and not in spite of them and you have found a lover for life.
~ Leo Buscaglia
A happy marriage is a long conversation which always seems too short.
~ Andre Maurois
Return to Index of Engagement Quotes


Whatever our souls are made of, his and mine are the same.
~ Emily Brontë
He felt now that he was not simply close to her, but that he did not know where he ended and she began.
~ Leo Tolstoy
What greater thing is there for two human souls that to feel that they are joined... to strengthen each other... to be at one with each other in silent unspeakable memories.
~ George Eliot
You rose into my life like a promised sunrise, brightening my days with the light in your eyes. I've never been so strong. Now I'm where I belong.
~ Maya Angelou
Return to Index of Engagement Quotes


Love does not consist of gazing at each other, but in looking together in the same direction.
~ Antoine de Saint-Exupery
The goal in marriage is not to think alike, but to think together.
~ Rober C. Dodds
Return to Index of Engagement Quotes


---
Return to Quotes About Love - from Engagement Quotes
Return to Inspiration Oasis Home Page
Like this Page?