Your 1-Stop For All Your Inspirational Needs
Inspiration Oasis is your special place where you can visit to have your spirits lifted. There are lots of inspirational quotes, heart-felt poems, motivational videos, and sections devoted to helping you develop key life skills to help you maintain a positive mental outlook on life. We will also provide you lots of reasons to celebrate life and laugh ;-)

If you like this ezine, please do a friend and me a big favor and "pay it forward."

If a friend forwarded this ezine to you and you like what you read, please subscribe by visiting my subscription page where you can view back issues and see the beautiful inspirational posters that are my gift of appreciation to you.

If you want a daily inspirational quote, follow @InspireOasis on Twitter.
Table of Contents
This issue is devoted to Spring and new growth. The first day of Spring is March 20th this year.

Other notable March events include St. Patrick's Day on March 17th and Easter on March 31st.

There are 2 FREE printable posters with quotes by Dr. Seuss to celebrate his birthday on March 2nd.



Top 5 Quotes About Growth

Video - What Does the Easter Bunny have to do with Easter?

Let's Celebrate!

What's New

Tools for an Abundant Life

Comments? Ideas? Feedback?



Spring is welcomed with open arms after a long, cold, difficult winter. So it is with our lives.

Did you know that many of the beautiful Spring flowers we love so much would not bloom if they had not had a freeze? So it is with our lives.

Below is a collection of inspiring quotes about adversity and growth.

1. There is no such thing as limits to growth, because there are no limits to the human capacity for intelligence, imagination, and wonder.
~ Ronald Reagan



Grow

Buy This at Allposters.com




There is a lot of wisdom to be learned from the trees. Reach for the sun or the stars as the case may be. Stand firm, tall, and strong always reaching for your highest potential. Grow where you are planted.



2. Every adversity, every failure, every heartache carries with it the seed on an equal or greater benefit.
~ Napoleon Hill

Although everyone hates adversity, there can be a seed of equivalent benefit in our hardships, if we look for it. For example:

Milo C. Jones owned a small farm that only made a mere living. After Milo Jones was stricken with double paralysis and had only his mind to rely upon, he conceived of the idea of raising hogs to make little pig sausages. This idea yielded him a huge fortune.

See more stories of overcoming adversity.



3. May God give you...
For every storm, a rainbow,
For every tear, a smile,
For every care, a promise,
And a blessing in each trial.
For every problem life sends,
A faithful friend to share,
For every sigh, a sweet song,
And an answer for each prayer.


An Irish Blessing Mouse Pad

by

CowboyCraic

View more

Rain Mousepads



Since it is March, I had to include at least one Irish Blessing in honor of St. Paddy's Day.

There seems to be this duality in life: Rainbows in the storm, blessings in trials, etc. Be sure to look for your rainbow in your storm.

I have to admit the Irish Blessings are some of the most beautiful and inspiring blessings around. See more great Irish Blessings.



4. The resurrection gives my life meaning and direction and the opportunity to start over no matter what my circumstances.
~ Robert Flatt

With Easter around the corner, a quote about the resurrection seemed appropriate. Remember just as Jesus conquered death, what seemed to be unconquerable, so too can we surmount those "unconquerable" things in our lives.

Check out Easter Poems and Easter Quotes for more Easter inspiration.



5. Where man sees but withered leaves, God sees sweet flowers growing.
~ Albert Laighton

Too often we look at the withered leaves in our lives, and do not recognize that it actually has the potential to become the fertilizer to something beautiful and desirable in our lives.

In nature when something dies (like the leaves) it becomes fertile ground for new growth for all that is around it. Nothing goes to waste in Nature. The same God who created the world and laws of Nature created us. Relax and trust in the Divine plan for your life.





Have you ever wondered what does the Easter bunny and Eggs have to do with Easter? Watch this informative youtube video to find out... 

Whenever you need a quick motivational video, check out my 3-Minute Motivational Videos page.

I'm one who is always looking for reasons to celebrate. Here are some known and little known reasons to celebrate in March!

Did you know that the month of March has been deemed as Irish-American Heritage Month? It makes sense, after all St. Patrick's Day is March 17th.

Whether you are Irish or not, check out the wonderful Irish Blessings to share with friends and family.

Monthly Observances in the month of March:

Irish-American Heritage Month – Check out our Irish Blessings!



Weekly Observances in the month of March:

2nd Week - Bubble Gum Week

Special Days in March to Celebrate:

3/1/13 – Share a Smile Day
3/2/13 – Dr. Seuss's Birthday - Check out the Dr. Seuss Quotes


To gain access to this FREE printable poster (Born to Stand Out) with this quote, click here and enter password "posters" (without the quotes).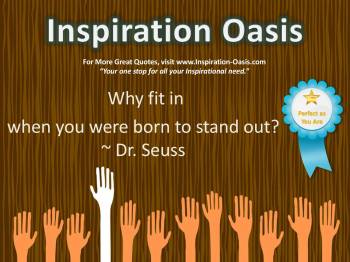 To gain access to this FREE printable poster (Zebra) with this quote, click here and enter password "posters" (without the quotes).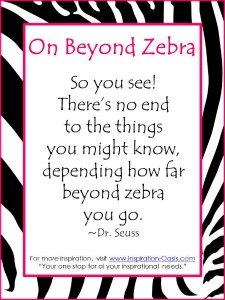 3/6/13 – Dentist Day
3/8/13 – Working Women's Day
3/9/13 – No Smoking Day
3/10/13 – Daylight Savings Time Begins
3/13/13 – Good Samaritan Day
3/14/13 – Albert Einstein's Birthday
3/16/13 – Everything You Do Is Right Day
3/17/13 – St. Patrick's Day - Check out our Irish Blessings.
3/18/13 – First Walk in Space in 1965
3/20/13 – First Day of Spring
3/21/13 – Single Parent's Day - Check out Raising Positive Kids in a Negative World by Zig Ziglar


3/22/13 – National Goof Off Day
3/25/13 – Passover begins at sundown
3/30/13 – Doctor's Day
3/31/13 – Easter – Check out Easter Poems and Easter Quotes for more Easter inspiration.

I hope some of these reasons to celebrate make you smile.

I don't know about you, but I'm celebrating Share a Smile Day, because I love putting a smile on other people's faces.

Often times, it is life's simplest pleasures that are remembered with the greatest fondness.

If you still are looking for a reason to celebrate… just remember:



"You can celebrate each and every day of your life
for no reason at all because life is precious
and worthy of being celebrated."
~ Linda Lovejoy



This last month I've been busy creating new pages and updating pages on my site that include:

Dr. Seuss Quotes – Dr. Seuss is best known for his children's stories, but he has great wisdom for adults too. Check out the inspiring video on Dr. Seuss quotes.

Easter Poems – Beautiful collection of Easter poems with ranging from Christian poems to cute poems for children. Learn about the legend of the dogwood tree and interesting video about the history of the Easter bunny and eggs.

Easter Quotes – Nice collection of Easter quotes with special section on Easter egg jokes.

Irish Blessings - Great for St. Patrick's Day… Wonderful for a heartfelt blessing! Check out the amazing video on Irish Step Dancing.



One of the most widely known inspirational speakers on prosperity was Napoleon Hill, who interviewed over 500 of the United States' richest people to garner their prosperity secrets.

I'd love to hear from you. Just reply to this ezine and tell me what you think!

See you next month!

Linda
Inspiration Oasis - Your 1-Stop For All Your Inspirational Needs