Easter Poems
Spring and New Life...
I hope you enjoy this great collection of Easter Poems ranging from Christian poems to cute poems for children. 
Learn about the legend of the Dogwood tree and more. 
As a child, I used to love Easter. 
We got to color beautiful Easter eggs and later have an Easter egg hunt. 
We would eat an assortment of Easter candy like chocolate bunnies, jelly beans, and marshmallow peeps usually without restraint until we got sick. 

My father would give us either a LIVE Easter bunny or baby chick.  We lived in a rural area and had farm animals.  We would watch the baby chicks peck their way out of an egg or the rabbits would give birth to a litter of adorable bunnies around Easter. 
 
My mother gave us lots of Spring toys to celebrate surviving another long dreary winter.  She'd give us yo-yo's, airplanes, or little sailboats to sail in my father's acre lake. 

The crocus's and daffodils would break through the melting snow and display their breath-taking beauty.

Spring is like a great metaphor for life.  There is a lot of personal growth that comes out of the cold barren experiences in our life.  It is the winters in our life that give birth to the new growth, new insights and re-birth.  

Our spirituality and belief in a Higher Power can help us triumph over the seemingly desperate and desolate times of our life.  

Celebrate this season of resurrection and re-birth!
Jesus Christ Is...
Buy This at Allposters.com
Healing at the Cross
© By M.S.Lowndes ~ 2006

We know when Jesus was crucified
Upon the wooden cross,
Our every sin was laid upon Him
All for loving the lost
And we know that when He rose again
He conquered death and hell
Through His resurrection we have
Eternal life as well
For this we praise our gracious Lord
And thank Him for His love
For we could never have had this hope
If it wasn't for His spilled blood
But we can know His resurrection power
Right now while we are here
For we can come to the cross of Christ
And lay down our burdens there
For everything that may hold us back
The hurts from yesterday
At the foot of the cross we lay it down
And then just walk away
For I believe that there is healing
At the cross of Christ
We do not need to carry these loads
For they've all been crucified
Receive from Jesus the healing you need
For your spirit, body and soul
Then you can arise, freed from your past
To walk completely whole
For what He accomplished on the cross
Goes on into eternity
Just reach out your hand and He will too
And receive His victory 
Return to Index of Easter Poems 
I'm Taking It Personal
by Pearl Sturgis
I'm taking it personal...
My walk with the Lord.
I'm telling him first of all
I trust in his word.
I count on His love for me
to guide me each day.
I know that he cares for me.
He'll show me the way.
He died upon Calvary
to set the world free
but if I were the only one
He'd die just for me.
So just take it personal
because it is true.
If you were the only one
He'd die just for you.
'Twas on the first Easter day
Hhe rose from the dead.
Believe what he has to say,
He's living instead.
So just take it personal.
Time's slipping away.
Don't wait till the trumpet's call
when it's too late to pray.

Return to Index of Easter Poems
Jelly Bean Prayer
By Charlene Dickensen, 1997

Jelly Belly Jelly Beans - 10lb
from: ACandyStore.com

Red is for the blood He gave. 
Green is for the grass He made. 
Yellow is for the sun so bright. 
Orange is for the edge of night. 
Black is for the sins we made. 
White is for the grace He gave.
 
Purple is for His hour of sorrow. 
Pink is for our new tomorrow. 
An egg full of jelly beans, Colorful and Sweet 
Is a prayer, a promise, A loved one's treat!! 
Return to Index of Easter Poems

Jesus Loves Us All So Much 
© By M.S.Lowndes
Jesus loves us all so much
That He would bleed and die
He took upon His beaten back
The cross that saw Him crucified
Yes, He loved us all so much
That He was scorned and scoffed
He took it all upon Himself
For it was the will of God
God knew it was the only way
The final sacrifice
Jesus Christ, a sinless man,
Would need to give His life
And even in the gift He gave
We still have not yet known
The fullness of His mighty love
And the grace so freely shown
All He asks is that we all
Repent and follow Him
For He has made the way for us
Free from hurt and sin
Yes, God loved us all so much
And yes, He loves us still
He longs for us to trust in Him
And do the Fathers will
Return to Index of Easter Poems  
The Angels Kept Silent
by Danette Kettwich
Permission use on website granted on 12/27/12

In Truth There Is...
Elvira Amrhein
Buy This at Allposters.com
Away up the hillside
My Savior was led.
My humble Lord Jesus
With thorns on his head.
The angels above
Looked down on His way;
They kept silent as they
Watched Him that day.
They watched as the beam
Was dropped in a hole.
Wings trembled in rage
And made thunder roll.
Not long ago they watched
Above where he lay.
They rejoiced as the Savior
Was placed in the hay.
This time they watched silent,
They did not rejoice;
They did not echo in
Any harmonic voice.
Did they wait in their legions,
A single word to be said?
One word to prompt a rescue
Archangel led.
Did they know this way was
God's eternal plan?
From the sword in His side
To the spikes in His hands.
The angels kept silent
As He cried 'It is done.'
Did they weep as if
The enemy had just won?
As the Messiah was
placed into the grave,
Did they comprehend the plan
For human souls to save?
Three days passed as they
Watched the stony place.
The death shroud then fell
They looked upon His face.
Heaven could no longer
Hold back their voice;
Their silence was broken
In harmonic rejoice.
Hallelujah! He is risen!
He has risen from the dead!
He is alive! He is alive!
Just as He said!
Death has no victory,
Death has no sting!
For Christ is alive
He's the everlasting King!

Return to Index of Easter Poems
The Resurrection
© By M.S.Lowndes
We hold so close to our hearts
The cross where Jesus died
But so much more than the blood-stained cross
Is that Jesus came back to life
The stone's been rolled away
The tomb lay open and bare
They looked for Him, and then the angel said
That He is no longer here
Oh what joy they must have felt
To see Him just once more
To eat with Him, to drink with Him
To receive Him back as Lord
So much did He accomplish
Through His death upon the cross
And in His rising from the dead
He reconciled us back to God
Nothing else could bridge the gap
That sin had wrenched apart
Now we can freely go to God
And receive Christ in our hearts
Return to Index of Easter Poems 
Easter Ecards
Want to send a
REALLY Unique Ecard?

Amazing selection of one of a kind Easter cards to suit your taste ranging from Rap to Rock-n-Roll to a funny video about the fate of the Easter egg.

Put a smile on the face of your loved ones.
"Laughter is the shortest distance between two people." ― Victor Borge
---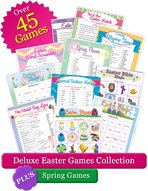 Deluxe Easter & Spring Games Collection
Here comes Peter Cottontail, hopping down the bunny trail.... and bugs, butterflies, bunnies, and birds, too! With spring comes rejuvenation, new life, and of course, the Easter Bunny.... all of it reason to celebrate, and all of it reason to play games!

Whether of laughter and the fun of it, or for a learning opportunity, the Deluxe Easter and Spring games collection has over 45 printable games with answers that you print right from your computer

---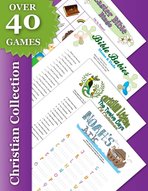 Deluxe Christian Games Collection
Wherever two or more are gathered in His name start with praise and prayers and then add some extra fun to the fellowship & friendship time by including Christian games.
A beautifully illustrated games to complement Sunday School Classes, Youth Groups, Adult Bible Studies and of course, family and friend get-togethers.

The deluxe Christian Games Collection contains over 40 printable games with answers that you print right from your computer.


---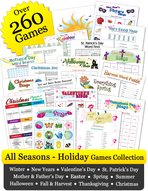 All Seasons - Holiday Games Collection
Because there's more than one holiday in the year worth playing games for, that's why! Whether you host oodles of parties each year, or just a few, make the fun last all year 'round... because all the holidays and seasons are included!

The All Seasons Printables Holiday Game collection contains over 260 printable games with answers for spring, winter, harvest, New Year's, Valentine's Day, St. Patrick's Day, Easter, Halloween, Thanksgiving and Christmas.

---
Return to Index of Easter Poems

FTD Spirited Grace Lily Bouquet
from: Flowers Fast.com-Send Flowers Same Day Delivery
Easter Lily
by Connie Faust
The Easter Lily, purest white,
Seems illumined by a holy light;
Glowing with grace of the risen Lord,
It stands supreme in the dark of night.

A symbol of One who defeated death
To reign in power above all strife,
To beckon all who will believe,
And offer to them eternal life.

The debt of my sin has been crucified,
Nailed to the cross with wounds of my shame;
Because Christ lives, I too shall live--
All praise and glory to His blessed Name!

The Easter Lily, so pure and white,
Represents Jesus, the risen LORD;
He stands supreme as the one, true God;
My Savior is worthy to be loved and adored!
 

Return to Index of Easter Poems
History of the Easter Bunny and Eggs
Have you ever wondered what does the Easter bunny and Eggs have to do with Easter? 
Watch this informative youtube video to find out…

Return to Index of Easter Poems
The Legend of the Dogwood Tree
by Unknown Author

Many years ago, a dogwood tree grew on a hill outside Jerusalem. In those days, the dogwood tree was as tall and mighty as an oak, and this tree was the tallest of all the dogwoods, and extremely proud of its strength.
"Something wonderful is going to happen to me," it said to anyone who would listen. "I'll probably become the mast that holds the big sail on a grand ship, or the main timber supporting a great house."
Unfortunately, the huge old dogwood was cut down to become the cross to which Jesus was nailed. The tree was horrified. All its dreams of glory were smashed, and it groaned in agony as two boards
from its trunk were nailed together.
Jesus took pity on the tree, even as he carried it to Calvary. "You will never be put to such use again," He told it. "From this day on, your shape will change, even as will the world. You will become slender and sway easily with the breeze. And instead of acorns, you will bear flowers in the shape of a cross... with two long and two short petals. In the center of the outer edge of each petal, there will be nail prints... brown with rust and red with bloodstains to show the world how you have suffered."
"Last of all, the center of your flowers will be marked as though with a crown of thorns to remind people forevermore, that you and I spent our last moments together." And so it was. And so it is.
Return to Index of Easter Poems
Bunnies
by Unknown Author
Bunnies are brown
Bunnies are white
Bunnies are always
An Easter delight.
Bunnies are cuddly
Large as well as small.
But I like the chocolate ones
The sweetest of them all.

Return to Index of Easter Poems
Easter Eggs
By Marti Brooks

Two Little Girls...
Buy This at Allposters.com
Let's color Easter eggs half of the day.
Put them in baskets, or hide them away.
It's so much fun and so much mess.
Bright new colors are adorning my dress.
Dip them in colors and put on a design.
I hope the blue one's don't break this time.
For some folks Easter eggs might be O.K.
But my ten colored fingers make a brighter array.

Return to Index of Easter Poems
Five Brown Eggs
By Unknown Author
Five brown eggs in a nest of hay,
One yellow chick popped out to play.
Four brown eggs in a nest of hay,
Another yellow chick cheep-cheeped Good day.
Three brown eggs in a nest of hay,
Crack went another one, Hip hooray.
Two brown eggs in a nest of hay,
One more chick pecked his shell away.
One brown egg in a nest of hay,
The last yellow chick popped out to say,
Happy Easter Day!

Return to Index of Easter Poems
Peter Cottontail
By Beatrix Potter

Here comes Peter Cottontail,
Hoppin' down the bunny trail,
Hippity, hoppity,
Easter's on its way.

Bringin' every girl and boy Baskets full of Easter joy,
Things to make your Easter bright and gay.
He's got jelly beans for Tommy,
Colored eggs for sister Sue,
There's an orchid for your Mommy
And an Easter bonnet, too.

Oh, here comes Peter Cottontail,
Hoppin' down the bunny trail,
Hippity, hoppity,
Happy Easter day.

Here comes Peter Cottontail,
Hoppin' down the bunny trail,
Look at him stop,
And listen to him say:
"Try to do the things you should."
Maybe if you're extra good,
He'll roll lots of Easter eggs your way.

You'll wake up on Easter morning
And you'll know that he was there
When you find those choc'late bunnies
That he's hiding ev'rywhere.

Oh, here comes Peter Cottontail,
Hoppin' down the bunny trail,
Hippity, hoppity,
Happy Easter day.

Watch this cute Peter Cottontail video...

Return to Index of Easter Poems
Secret Information
By Unknown Author

Would you like to know a secret?
Well, I'll tell you one I know:
The Easter's Bunny's coming,
My mama told me so.

He'll bring a basket filled with eggs
And leave it in my yard,
And I will find it Easter morn,
If I look very hard.

I shouldn't tell my secret,
But I think it should be shared.
You ought to know that Bunny's coming,
So you can be prepared!

Return to Index of Easter Poems
This Little Bunny
by Unknown Author
Rabbit and a...
Buy This at Allposters.com
This little bunny has two pink eyes.
This little bunny is very wise.
This little bunny is soft as silk.
This little bunny is white as milk.
This little bunny nibbles away
At cabbages and carrots the livelong day!

Return to Index of Easter Poems
T'was The Day Before Easter
By Tammy Fuller

Twas the day before Easter and all through the woods,
The bunnies were busy packing their goods.
The eggs were all colored so pretty and bright,
All things were "go" for the big , special night.

The baskets were waiting, all decorated with care,
In hopes that the Bunny soon would be there.
My little brother Sam was asleep in his bed,
While visions of Easter eggs rolled round his head.

And I in my pajamas with the cat on my lap,
I had just settled down for a quick little nap.
When outside the window I heard a great noise,
I sprang from my chair and jumped over some toys.

As quick as a flash to the window I flew,
I pulled up the shade and , OH, what a view.
The moon on the meadow cast a bright golden glow
And the wind blew the flowers to and then fro.

Then all of a sudden from out of nowhere,
Came some lively bunnies, hopping here, hopping there!
Leading the group with ears long and funny
Was a plump all-white rabbit...
That's right...the EASTER BUNNY!

The bunnies hopped past, one, two , three, four,
The rabbit called out and then there were more.
"Come Peter! Come, Flopsy! Come, Benny! Come, Joe!
Now hop along! Hop along! Hop along! GO!"

So up on each doorstep the bunnies did hop,
With baskets of eggs. (Let's hope they don't drop)!
Just at that moment, on the porch down below,
Came the stomping of feet 'Twas the rabbit I know!

As I stepped from my window I heard a loud sound.
Through the door came the rabbit with a leap and a bound.
He was furry and soft from his head to his feet.
To see him so close was really quite neat.

He was surrounded by eggs that had been carefully dyed.
Easter eggs galore he soon would hide.
His eyes were all twinkles, His nose was so pink,
And I can't be too sure but I think he did wink.

He had a kind face and a big fluffy tail
That bobbed up and down like a boat with a sail.
A twitch of his nose and a flick of his ear
Was his way of saying "You've nothing to fear."

He uttered no sound as he hopped all about,
Hiding the eggs and leaving no doubt,
That the Easter Bunny had come like he does every year...
Bringing baskets of happiness to children so dear.

Return to Index of Easter Poems
My Butt Hurts,...
Buy This at Allposters.com
Chocolate Rabbit
by Unknown Author

I got a chocolate rabbit
For an Easter treat,
A great big chocolate rabbit,
Good enough to eat.
So I ate his ears on Sunday,
his nose I finished Monday,
Tuesday I nibbled on his feet.
I ate his tail on Wednesday,
Thursday I kept on,
By Friday he was going,
Saturday he was gone.
Oh, I loved that chocolate rabbit,
From the moment that he came,
And if I get another one,
I'll love him just the same.


Return to Index of Easter Poems

Easter Bunny in Context

Art from ChristArt
Poem by Tom Mulhern - www.Real-Funny-Poems.com © 2010


Maybe it's just me
(It quite well could be)
But it certainly seems a bit funny
That the end of each Lent
Whether ill or well-spent
Is marked by the Easter bunny
Down the trail he hops
And allegedly stops
At each house to share eggs from his hoard
Whether fiction or true
What's it got to do
With the day of the risen Lord?
Return to Index of Easter Poems
The Rules of Chocolate.....

"My name is...
Danny Shanahan
Buy This at Allposters.com
If you've got melted chocolate all over your hands, you're eating it too slowly.

Chocolate-covered raisins, cherries, orange slices, and strawberries all count as fruit, so eat as many as you want.

The problem: How to get two pounds of chocolate home from the store in a hot car. The solution: Eat it in the parking lot.

Diet tip: Eat a chocolate bar before each meal. It'll take the edge off your appetite and you'll eat less.

Chocolate also contains milk which is dairy. So candy bars are a health food.

If I eat equal amounts of dark chocolate and white chocolate, is that a balanced diet? Don't they actually counteract each other?

Put "eat chocolate" at the top of your list of things to do today. That way at least you'll get one thing done.

A nice box of chocolates can provide your total daily intake of calories in one place. Isn't that handy?

If you can't eat all of your chocolate it will keep in the freezer. But if you can't eat all your chocolate, what's wrong with you?

Money talks. Chocolate sings.

Chocolate has many preservatives. Preservatives make you look younger.

Why is there no such organization as Chocoholics Anonymous? Because no one wants to quit.

Chocolate is a health food. Chocolate is derived from cacao beans. Bean = vegetable. Sugar is derived either from sugar beets or cane, both vegetables. And, of course, the milk/cream is dairy. So eat more chocolate to meet the dietary requirements for daily vegetable intake.

If not for chocolate, there would be no need for control top pantyhose. An entire garment industry would be devastated.

         ~  Author Unknown



Godiva Signature Celebration Chocolate Gift Basket
Return to Index of Easter Poems

An Easter Carol
By Phillips Brooks

Tomb, thou shalt not hold Him longer;
Death is strong, but Life is stronger;
Stronger than the dark, the light;
Stronger than the wrong, the right;
Faith and Hope triumphant say Christ will rise on Easter Day.
Return to Index of Easter Poems
Easter Angels
By Thomas Scott
Angels, roll the rock away;
Death, yield up thy mighty prey:
See, He rises from the tomb,
Glowing with immortal bloom.

Return to Index of Easter Poems
Easter Bells
By Lizzie Akers

O the Easter bells are gladly ringing,
Let the whole world join the happy lay,
Let the hills and vales break forth in singing,
Christ, the Lord of Life, is ris'n today.
Return to Index of Easter Poems
Easter Blessings
By Laura Taylor Mark
Giving thanks for all the blessings that we have received
Reflecting on the past year and everything achieved
Dressed in Sunday best clothes, family can be found
At the table for Easter dinner with blessings all around.

Return to Index of Easter Poems
Easter Dinner
By Marti Brooks
Easter dinner with plenty of ham
Nice warm biscuits butter and jam
Laughing and chattering till everyone's through
But then there's always the dishes to do.
Return to Index of Easter Poems
It's NOT the…
By Dana Roberts Clark
It's not the new dress with a matching hat.
It's not all the candy that makes you feel fat.
It's not going to church to hear the bell ring.
It's to celebrate the Holy Risen King!

Return to Index of Easter Poems
Rainbow Colored Eggs
By Unknown Author

Rainbow colored eggs scattered randomly here and there
Jelly beans, chocolate bunnies and a plush beribboned bear
Children's squeals of delight at baskets overflowing
Their sweet tooth in full gear with chocolate faces glowing.
Return to Index of Easter Poems

---
Return to Inspirational Poems - from Easter Poems
Return to Inspiration Oasis Home Page

Like this Page?