Easter Quotes
Celebrate this season of death and rebirth...

Enjoy this collection of Easter quotes.  Laugh at the ridiculous Easter egg jokes.

Easter is the time of the crucifixion and more importantly the resurrection of Jesus Christ. 

Easter is also a great time to contemplate and embrace the natural cycle of death and rebirth in of our own lives. Just as when the cold winds of winter causes the trees to shed their leaves and the flowers to die, so it is in our own evolutionary growth.

The times of lack, sadness, and loss can be the genesis of new birth of opulence, joy, and opportunity. By viewing our seasons losses and hardships as a signal of hope that our rejuvenation and blessings are just around the corner, we speed the process of new birth in our own lives.
Remember just as Jesus conquered death, what seemed to be unconquerable, so too can we surmount those "unconquerable" things in our lives.
Jesus Christ Is...
Buy This at Allposters.com
Read and share your inspirational stories of how a hardship was actually the genesis of re-birth in your life. 

Easter spells out beauty, the rare beauty of new life.
~ S.D. Gordon
The great gift of Easter is hope - Christian hope which makes us have that confidence in God, in his ultimate triumph, and in his goodness and love, which nothing can shake.
~ Basil C. Hume
The story of Easter is the story of God's wonderful window of divine surprise.
~ Carl Knudsen
Easter is the demonstration of God that life is essentially spiritual and timeless.
~ Charles M. Crowe

Easter tells us that life is to be interpreted not simply in terms of things but in terms of ideals.
~ Charles M. Crowe
Easter says you can put truth in a grave, but it won't stay there.
~ Clarence W. Hall

On Easter Day the veil between time and eternity thins to gossamer.
~ Douglas Horton
Those have a short Lent, who owe money to be paid at Easter.
~ Benjamin Franklin
Easter is not a passport to another world; it is a quality of perception for this one.
~ W.P. Lemon

Return to Index of Easter Quotes
Jesus cannot forget us; we have been graven on the palms of his hands.
~ Lois Picillo

Christ is our Passover! And we will keep the feast With the new leaven, The bread of heaven: All welcome, even the least!
~ Dr. A.R. Thompson

It was inevitable that Jesus Christ should be crucified. It was also inevitable that He should rise again.
~ H. R. L. Sheppard

Jesus took my place on the cross to give me a place in heaven.
~ Unknown

We live and die: Christ died and lived!
~ John Stott

Return to Index of Easter Quotes
Where man sees but withered leaves, God sees sweet flowers growing.
~ Albert Laighton

For I remember it is Easter morn,
And life and love and peace are all new born.
~ Alice Freeman Palmer

Return to Index of Easter Quotes
But those who die in the LORD will live; their bodies will rise again! Those who sleep in the earth will rise up and sing for joy! For your life-giving light will fall like dew on your people in the place of the dead!.
~ Bible - Isaiah 26:19 (NLT)

The Resurrection
1Now after the Sabbath, toward the dawn of the first day of the week, Mary Magdalene and the other Mary went to see the tomb. 2And behold, there was a great earthquake, for an angel of the Lord descended from heaven and came and rolled back the stone and sat on it. 3His appearance was like lightning, and his clothing white as snow. 4And for fear of him the guards trembled and became like dead men. 5But the angel said to the women, "Do not be afraid, for I know that you seek Jesus who was crucified. 6He is not here, for he has risen, as he said. Come, see the place where hea lay. 7Then go quickly and tell his disciples that he has risen from the dead, and behold, he is going before you to Galilee; there you will see him. See, I have told you." 8So they departed quickly from the tomb with fear and great joy, and ran to tell his disciples. 9And behold, Jesus met them and said, "Greetings!" And they came up and took hold of his feet and worshiped him. 10Then Jesus said to them, "Do not be afraid; go and tell my brothers to go to Galilee, and there they will see me."
~ Bible - Matthew 28:1-10 (ESV)
Jesus answered them, "Destroy this temple, and in three days I will raise it up."
~  Bible - John 2:19 (ESV)

For God so loved the world that he gave his one and only Son, that whoever believes in him shall not perish but have eternal life. 17 For God did not send his Son into the world to condemn the world, but to save the world through him.
~  Bible - John 3:16-17 (NIV)

Return to Index of Easter Quotes

The thief comes only to steal and kill and destroy; I have come that they may have life, and have it to the full.
~  Bible - John 10: 10 (NIV)

Jesus said to her, "I am the resurrection and the life. The one who believes in me will live, even though they die; 26 and whoever lives by believing in me will never die. Do you believe this?"
~  Bible - John 11:25-26 (NIV)
But God raised him from the dead, freeing him from the agony of death, because it was impossible for death to keep its hold on him.
~  Bible - Acts 2:24 (NIV)
If you confess with your mouth that Jesus is Lord and believe in your heart that God raised him from the dead, you will be saved.
~  Bible - Romans 10: 9 (NLT)

Blessed be the God and Father of our Lord Jesus Christ! According to his great mercy, he has caused us to be born again to a living hope through the resurrection of Jesus Christ from the dead,
~  Bible - 1 Peter 1:3 (ESV)
And this is the promise that he made to us—eternal life.
~  Bible - 1 John 2:25 (ESV)

Return to Index of Easter Quotes
All I really need is love, but a little chocolate now and then doesn't hurt!
~ Lucy Van Pelt, In Peanuts by Charles M. Schulz
There's nothing better than a good friend, except a good friend with CHOCOLATE.
~ Linda Grayson, "The Pickwick Papers"

Chocolate causes certain endocrine glands to secrete hormones that affect your feelings and behavior by making you happy. Therefore, it counteracts depression, in turn reducing the stress of depression. Your stress-free life helps you maintain a youthful disposition, both physically and mentally. So, eat lots of chocolate!
~ Elaine Sherman, Book of Divine Indulgences
Forget love - I'd rather fall in chocolate!!!
~ Unknown

Return to Index of Easter Quotes
---
The Rules of Chocolate.....

"My name is...
Danny Shanahan
Buy This at Allposters.com
If you've got melted chocolate all over your hands, you're eating it too slowly.

Chocolate-covered raisins, cherries, orange slices, and strawberries all count as fruit, so eat as many as you want.

The problem: How to get two pounds of chocolate home from the store in a hot car. The solution: Eat it in the parking lot.

Diet tip: Eat a chocolate bar before each meal. It'll take the edge off your appetite and you'll eat less.

Chocolate also contains milk which is dairy. So candy bars are a health food.

If I eat equal amounts of dark chocolate and white chocolate, is that a balanced diet? Don't they actually counteract each other?

Put "eat chocolate" at the top of your list of things to do today. That way at least you'll get one thing done.

A nice box of chocolates can provide your total daily intake of calories in one place. Isn't that handy?

If you can't eat all of your chocolate it will keep in the freezer. But if you can't eat all your chocolate, what's wrong with you?

Money talks. Chocolate sings.

Chocolate has many preservatives. Preservatives make you look younger.

Why is there no such organization as Chocoholics Anonymous? Because no one wants to quit.

Chocolate is a health food. Chocolate is derived from cacao beans. Bean = vegetable. Sugar is derived either from sugar beets or cane, both vegetables. And, of course, the milk/cream is dairy. So eat more chocolate to meet the dietary requirements for daily vegetable intake.

If not for chocolate, there would be no need for control top pantyhose. An entire garment industry would be devastated.

         ~  Author Unknown



Godiva Signature Celebration Chocolate Gift Basket
Return to Index of Easter Quotes

'Twas Easter-Sunday. The full-blossomed trees 
Filled all the air with fragrance and with joy.
~  Henry Wadsworth Longfellow, Spanish Student
I think of the garden after the rain; 
And hope to my heart comes singing, 
At morn the cherry-blooms will be white, 
And the Easter bells be ringing!
~  Edna Dean Proctor, "Easter Bells"
Well pleaseth me the sweet time of Easter 
That maketh the leaf and the flower come out.
~  Bertran de Born
Spring is nature's way of saying, "Let's party!"
~  Robin Williams

Return to Index of Easter Quotes
God expects from men something more than at such times, and that it were much to be wished for the credit of their religion as well as the satisfaction of their conscience that their Easter devotions would in some measure come up to their Easter dress.
~  Robert South, Sermons
Return to Index of Easter Quotes
Easter Ecards
Want to send a
REALLY Unique Ecard?

Amazing selection of one of a kind Easter cards to suit your taste ranging from Rap to Rock-n-Roll to a funny video about the fate of the Easter egg.

Put a smile on the face of your loved ones.
"Laughter is the shortest distance between two people." ― Victor Borge
---
Return to Index of Easter Quotes
Easter Eggs
Buy This at Allposters.com
Q. How did the eggs leave the highway?
A. They went through the "Eggs-it".


Q. What did the egg say to the clown?
A. You crack me up!

Q. What part did the egg play in the movies?
A. He was an "Egg-stra".

Q. What do you call a sleeping egg?
A. Egg-zosted!

Q. What did the eggs do when the light turned green?
A. They egg-cellerated.

Q. What do you call an egg who is on the computer too much?
A. An "Egg Head".


Q. What sport are the eggs good at?
A. Running!
 
Q. Why was the father egg so strict?
A. He was hard-boiled. 
 

Q. Why won't eggs go out at night?
A. They don't want to get "beat up".
 
Q. Why did the egg go to school?
A. To get "Egg-u-cated".
 
Q. Why wouldn't the egg take a hot bath?
A. He didn't want to be hard boiled. 
 

Q. How do eggs stay healthy?
A. They "Egg-cercize".
 
Q. What kind of plants do eggs keep?
A. Eggplants, silly!
 
Q. Why was the little girl sad after the race?
A. Because an egg beater! 
 
Q. What do you call an egg from outer space?
A. An "Egg-stra terrestial". 
  
Q. What day does an egg hate the most?
A. Fry-days.
 
Q. What came first, the chicken or the egg?
A. Neither--the Easter Bunny!
 
~  Unknown Author

Return to Index of Easter Quotes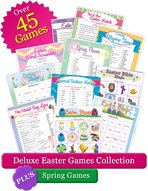 Deluxe Easter & Spring Games Collection
Here comes Peter Cottontail, hopping down the bunny trail.... and bugs, butterflies, bunnies, and birds, too! With spring comes rejuvenation, new life, and of course, the Easter Bunny.... all of it reason to celebrate, and all of it reason to play games!

Whether of laughter and the fun of it, or for a learning opportunity, the Deluxe Easter and Spring games collection has over 45 printable games with answers that you print right from your computer

---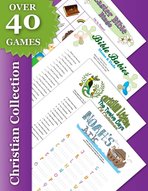 Deluxe Christian Games Collection
Wherever two or more are gathered in His name start with praise and prayers and then add some extra fun to the fellowship & friendship time by including Christian games.
A beautifully illustrated games to complement Sunday School Classes, Youth Groups, Adult Bible Studies and of course, family and friend get-togethers.

The deluxe Christian Games Collection contains over 40 printable games with answers that you print right from your computer.


---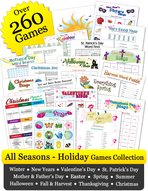 All Seasons - Holiday Games Collection
Because there's more than one holiday in the year worth playing games for, that's why! Whether you host oodles of parties each year, or just a few, make the fun last all year 'round... because all the holidays and seasons are included!

The All Seasons Printables Holiday Game collection contains over 260 printable games with answers for spring, winter, harvest, New Year's, Valentine's Day, St. Patrick's Day, Easter, Halloween, Thanksgiving and Christmas.

---
Return to Index of Easter Quotes

Snow on Christmas means Easter will be green.
~ Unknown

A late Easter, a long cold spring.
~ French Proverb

Return to Index of Easter Quotes
Let every man and woman count himself immortal. Let him catch the revelation of Jesus in his resurrection. Let him say not merely, "Christ is risen," but "I shall rise."
~ Phillips Brooks
But from this earth, this grave, this dust, 
My God shall raise me up, I trust.
~ Walter Raleigh
He takes men out of time and makes them feel eternity.  
~ Ralph Waldo Emerson
There is not room for Death, 
Nor atom that his might could render void: 
Thou - Thou art Being and Breath, 
And what Thou art may never be destroyed.  
~ Emily Bronte
 Return to Index of Easter Quotes
"I like the...
Barbara Smaller
Buy This at Allposters.com
I lied on my Weight Watchers list. I put down that I had 3 eggs... but they were Cadbury chocolate eggs. ~ Caroline Rhea
All I really need is love, but a little chocolate now and then doesn't hurt!
~ Lucy Van Pelt, In Peanuts by Charles M. Schulz
I'm a little hoarse tonight. I've been living in Chicago for the past two months, and you know how it is, yelling for help on the way home every night. Things are so tough in Chicago that at Easter time, for bunnies the little kids use porcupines.
~ Fred Allen

My mom used to say that Greek Easter was later because then you get stuff cheaper.
~ Amy Sedaris

Easter is a true miracle – what other day would people get all excited about finding hard-boiled eggs.
~  Unknown

Return to Index of Easter Quotes
Earth's saddest day and gladdest day were just three days apart!
~ Susan Coolidge

The stone was rolled away from the door, not to permit Christ to come out, but to enable the disciples to go in.
~  Peter Marshall

The cross of Christ shows us that God's love is of deepest descent...universal distribution and of eternal duration.
~ Dr. Fred Barlow

Return to Index of Easter Quotes
The resurrection gives my life meaning and direction and the opportunity to start over no matter what my circumstances.
~ Robert Flatt
The joyful news that He is risen does not change the contemporary world. Still before us lie work, discipline, sacrifice. But the fact of Easter gives us the spiritual power to do the work, accept the discipline, and make the sacrifice.
~ Henry Knox Sherrill
Easter is not a time for groping through dusty, musty tomes or tombs to disprove spontaneous generation or even to prove life eternal. It is a day to fan the ashes of dead hope, a day to banish doubts and seek the slopes where the sun is rising, to revel in the faith which transports us out of ourselves and the dead past into the vast and inviting unknown.
~ Author unknown, as quoted in the Lewiston Tribune
Let the resurrection joy lift us from loneliness and weakness and despair to strength and beauty and happiness.
~ Floyd W. Tomkins

Return to Index of Easter Quotes
The benefits [of the resurrection] are innumerable. To list a few: Our illnesses don't seem nearly so final; Our fears fade and lose their grip; Our grief over those who have gone on is diminished; Our desires to press on in spite of the obstacles is rejuvenated... Our identity as Christians is strengthened as we stand in the lengthening shadows of saints down through the centuries, who have always answered back in antiphonal voice: 'He is risen, indeed!'
~ Charles Swindoll

"Christ the Lord is risen to-day," 
Sons of men and angels say. 
Raise your joys and triumphs high; 
Sing, ye heavens, and earth reply.
~ Charles Wesley
The marvel of heaven and earth, of time and eternity, is the atoning death of Jesus Christ. This is the mystery that brings more glory to God than all creation.
~ C. H. Spurgeon

Our Lord has written the promise of the resurrection, not in books alone, but in every leaf in spring-time.
~ Martin Luther

Return to Index of Easter Quotes
In the bonds of Death He lay  
Who for our offence was slain;  
But the Lord is risen to-day,  
Christ hath brought us life again,  
Wherefore let us all rejoice,  
Singing loud, with cheerful voice,  
Hallelujah!
~ Martin Luther
Do not abandon yourselves to despair. We are the Easter people and hallelujah is our song.
~ Pope John Paul II

And he departed from our sight that we might return to our heart, and there find Him. For He departed, and behold, He is here.
~ St Augustine

Now let the heavens be joyful, 
Let earth her song begin: 
Let the round world keep triumph, 
And all that is therein; 
Invisible and visible, 
Their notes let all things blend, 
For Christ the Lord is risen 
Our joy that hath no end.
~ Saint John of Damascus
Return to Index of Easter Quotes

If you were a jelly bean… you'd be worth picking through ALL the others to get!
My Easter basket is filled with thoughts of you...

You put the hip in my hop Bunny…

Another Eggscuse For Chocolate

You are some bunny special!

From one egghead to another, Happy Easter!

The good times, the fun and laughter, and the love we share are the rewards of being family.

Hope you both know just how much you're loved and just how much you're wished a wonderful Easter.
A special day that holds in store eggs-actly what you're hoping for! Happy Easter
Have a Happy Easter and may you enjoy the beauty around you at this time of year.
May Easter's gentle promise of hope and rebirth fill your heart with joy.
If I had an egg for every time you've made me feel special, I could be the Easter bunny.

~ Author Unknown

Return to Index of Easter Quotes
The resurrection gives my life meaning and direction and the opportunity to start over no matter what my circumstances.
~ Robert Flatt
If Easter says anything to us today, it says this: You can put truth in a grave, but it won't stay there. You can nail it to a cross, wrap it in winding sheets and shut it up in a tomb, but it will rise!
~ Clarence W. Hall
Once more to new creation Awake, 
and death gainsay, 
For death is swallowed up of life, 
And Christ is risen today!
~ George Newell Lovejoy
Christianity begins where religion ends...with the resurrection.
~ Herbert Booth Smith

The resurrection asserts a truth which is by no means always written legibly for all men on the face of nature. It tells us that the spiritual is higher than the material; that in this universe spirit counts for more than matter.
~ H.P. Liddon
The resurrection of Jesus Christ is a certainty. If any fact, not merely of Christianity, but of history, stands on an impregnable foundation, this does.
~ E.P. Goodwin
Return to Index of Easter Quotes

---
Return to Celebration Quotes - from Easter Quotes
Return to Inspiration Oasis Home Page

Like this Page?