Your 1-Stop For All Your Inspirational Needs
Inspiration Oasis is your special place where you can visit to have your spirits lifted. There are lots of inspirational quotes, heart-felt poems, motivational videos, and sections devoted to helping you develop key life skills to help you maintain a positive mental outlook on life. We will also provide you lots of reasons to celebrate life and laugh ;-)

If you like this ezine, please do a friend and me a big favor and "pay it forward."

If a friend forwarded this ezine to you and you like what you read, please subscribe by visiting my subscription page where you can view back issues and see the beautiful inspirational posters that are my gift of appreciation to you.

If you want a daily inspirational quote, follow @InspireOasis on Twitter.
Table of Contents
Since the main events of November are Thanksgiving and Veterans Day, our focus this issue will be on counting our blessings, appreciation for all that we have, and gratitude to our Veterans have sacrificed for our country. We are truly blessed.



Top 5 Quotes on Thanksgiving and Gratitude

Video - Veterans Tribute

Let's Celebrate!

What's New

Tools for Living an Inspired Life

Comments? Ideas? Feedback?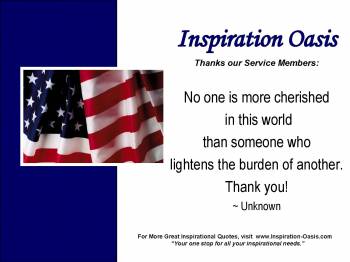 To gain access to this FREE printable poster (Thanks to our Service Members) with this quote, click here and enter password "posters" (without the quotes).

1. No one is more cherished in this world than someone who lightens the burden of another. Thank you. ~ Unknown

Please be sure to share the poster and quote with your favorite service member or veteran to show your appreciation for all of their sacrifices they have given for our country.

2. Give thanks for unknown blessings already on their way. ~ Native American Saying

The law of attraction is in harmony with this quote. By anticipating and eagerly expecting our good we hasten the process. I challenge you to test this quote out. You'll be amazed at the results.

3. If you want to feel rich, just count all of the things you have that money can't buy. ~ Unknown

I really like this quote! True wealth is in the small things often taken for granted, such as good health, 2 arms, 2 legs, mobility, freedom, friends, and family. If we lost any one of these items we would give anything to regain back. We are blessed beyond measure.

4. Feeling gratitude and not expressing it is like wrapping a present and not giving it. ~ William Arthur Ward

Expressing gratitude expands your soul and the quality of your life. When you become aware of just how blessed you are you increase your joy.

When you let those closest to you know how much you appreciate them you nourish and solidify your relationship.

It takes so little to express your gratitude and it pays big dividends in the quality of your life and the lives of those your appreciate.

5. God has two dwellings; one in heaven, and the other in a meek and thankful heart. ~ Izaak Walton

If you want to feel the blessings of God showering your life, develop a thankful heart.

The more grateful you are, the more you have to be grateful for. An attitude of gratitude is truly a powerful force that will awaken your awareness of God's presence and blessings in your life.

For more great quotes on Thanksgiving and Gratitude, see:

Watch this veteran video tribute was created by Arthur Jones was "voted best" on youtube.

This video is in grateful remembrance of veterans who made the supreme sacrifice for the right for freedom and justice.

Inspirational music is "Proud to be an American" by Lee Greenwood.

Whenever you need a quick motivational video, check out my 3-Minute Motivational Videos page.



I'm one who is always looking for reasons to celebrate. Here are some known and little known reasons to celebrate in November!

Did you know that the month of November has been deemed as Child Safety and Protection Month?

Our children are such a precious asset that deserves to be safeguarded and protected.

Weekly Observances in the month of November:

2nd week – National Children's Book Week
3rd week – American Education Week


Special Days in September to Celebrate:

11/1/12 – All Saint's Day
11/2/12 – Cookie Monster's Birthday (Sesame Street Character)
11/3/12 – Sandwich Day
11/4/12 – Daylight Savings Time Ends
11/5/12 – National Donut Day
11/6/12 – United States Election Day – Get out and vote!
11/7/12 – Hug-a-Bear Day
11/9/12 – Parade Day
11/10/12 – US Marine Corp established by Congress in 1775
11/11/12 – Veterans Day – See Veterans Day Quotes and Make a Tribute to Your Veteran, Video Tributes to Veterans
11/12/12 – Chicken Soup for the Soul Day
11/14/12 – National Clean Out Your Refrigerator Day
11/15/12 – America Recycles Day
11/17/12 – Take a Hike Day
11/18/12 – Mickey Mouse's Birthday (in 1928) See Walt Disney Quotes
11/19/12 – Play Monopoly Day
11/20/12 – Universal Children's Day
11/22/12 – Thanksgiving Day in the United States – check out Thanksgiving Quotes and Thanksgiving Poems
11/25/12 – National Parfait Day
11/26/12 – Charles Schultz's Birthday in 1922
11/28/12 – Mark Twain's Birthday Day in 1835 (real name is Samuel Clemmens)
11/30/12 – Stay at Home Because You're Well Day

I don't know about you, but I'm celebrating 11/30/12 – Stay at Home Because You're Well Day. We need to take days off when we are healthy enough to enjoy them.

Often times, it is life's simplest pleasures that are remembered with the greatest fondness.

If you still are looking for a reason to celebrate… just remember:



"You can celebrate each and every day of your life
for no reason at all because life is precious
and worthy of being celebrated."
~ Linda Lovejoy



This last month I've been busy creating new pages and updating pages on my site that include:

Appreciation Quotes

Gratitude Quotes

Military Tribute Videos

Thank You Quotes

Thanksgiving Poems

Thanksgiving Quotes

Veterans Day Quotes

Veterans Stories



This month's tool for living an inspired life is utilizing a daily gratitude journal.

This practice encouraged by the famous celebrity, Oprah Winfrey.

"Be thankful for what you have; you'll end up having more. If you concentrate on what you don't have, you will never, ever have enough."
~ Oprah Winfrey

"The more you praise and celebrate your life, the more there is in life to celebrate."
~ Oprah Winfrey

"Keep a grateful journal. Every night, list five things you are grateful for."
~ Oprah Winfrey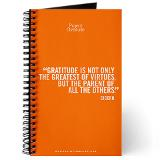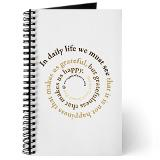 BUY Journal #1                BUY Journal #2               BUY Journal #3     

For a larger selection of Gratitude Journals, CLICK HERE.

Above are some of my favorite gratitude journals because of the inspirational quotes shown on the cover.

QUOTE ON JOURNAL #1

Gratitude is not only the greatest of virtues, but the parent of all others. ~ Cicero

QUOTE ON JOURNAL #2

In our daily lives, we must see that it is not happiness that makes us grateful, but the gratefulness that makes us happy. ~ Albert Clarke

QUOTE ON JOURNAL #3

If all you did was just look for things to appreciate you would live a joyous, spectacular life. ~ Jerry & Esther Hicks

I'd love to hear from you. Just reply to this ezine and tell me what you think!

See you next month!

Linda
Inspiration Oasis - Your 1-Stop For All Your Inspirational Needs