Thanksgiving Poems
This collection of Thanksgiving poems captures the many aspects of the holiday of Thanksgiving and the spirit of a thankful heart. I hope you enjoy!
Take a turkey, stuff it fat,
Some of this and some of that.
Get some turnips, peel them well.
Cook a big squash in its shell.
Now potatoes, big and white,
Mash till they are soft and light.
Cranberries, so tart and sweet,
With the turkey we must eat.
Pickles-yes-and then, oh my!
For a dessert a pumpkin pie,
Golden brown and spicy sweet.
What a fine Thanksgiving treat!
~ Maude M. Grant
Return to Index of Thanksgiving Poems
Be thankful that you don't already have everything you desire.
If you did, what would there be to look forward to?
Be thankful when you don't know something,
for it gives you the opportunity to learn.
Be thankful for the difficult times.
During those times you grow.
Be thankful for your limitations,
because they give you opportunities for improvement.
Be thankful for each new challenge,
because it will build your strength and character.
Be thankful for your mistakes.
They will teach you valuable lessons.
Be thankful when you're tired and weary,
because it means you've made a difference.
It's easy to be thankful for the good things.
A life of rich fulfillment comes to those who
are also thankful for the setbacks.
Gratitude can turn a negative into a positive.
Find a way to be thankful for your troubles,
and they can become your blessings.

~ Unknown Author
Return to Index of Thanksgiving Poems
If I had been a Pilgrim child
Among the fields and forests wild
Where deer and turkey used to roam,
A cabin would have been my home
With fireplace and earthen floor
And bearskins hanging at the door.
I would have gathered berries bright
For candles fragrantly alight,
And dug for clams and picked the corn
And laid the table smooth and worn.
Or hunted nuts hard-shelled and good
And helped in any way I could,
With time to laugh and play and run
When Indian children came for fun.
And on the first Thanksgiving Day
I would have met with friends to pray
And thank the Lord for all his care
In keeping us together there.

~By Margaret Hillert
Return to Index of Thanksgiving Poems
For the hay and the corn and the wheat that is reaped,
For the labor well done, and the barns that are heaped,
For the sun and the dew and the sweet honeycomb,
For the rose and the song and the harvest brought home --
Thanksgiving! Thanksgiving!
For the trade and the skill and the wealth in our land,
For the cunning and strength of the workingman's hand,
For the good that our artists and poets have taught,
For the friendship that hope and affection have brought --
Thanksgiving! Thanksgiving!
For the homes that with purest affection are blest,
For the season of plenty and well-deserved rest,
For our country extending from sea unto sea;
The land that is known as the "Land of the Free" --
Thanksgiving! Thanksgiving!

~ Unknown Author
Return to Index of Thanksgiving Poems
Count your blessings instead of your crosses;
Count your gains instead of your losses.
Count your joys instead of your woes;
Count your friends instead of your foes.
Count your smiles instead of your tears;
Count your courage instead of your fears.
Count your full years instead of your lean;
Count your kind deeds instead of your mean.
Count your health instead of your wealth;
Count on God instead of yourself.
~ Unknown Author
Return to Index of Thanksgiving Poems
Make Your Guests Feel Special - Order Delicious Cookie Placecards
"A person's name is to that person, sweetest, most important sound in any language." ~ Dale Carnegie
---
I ate too much turkey,
I ate too much corn,
I ate too much pudding and pie,
I'm stuffed up with muffins
and much too much stuffin',
I'm probably going to die.
I piled up my plate
and I ate and I ate,
but I wish I had known when to stop,
for I'm so crammed with yams,
sauces, gravies, and jams
that my buttons are starting to pop.
I'm full of tomatoes
and french fried potatoes,
my stomach is swollen and sore,
but there's still some dessert,
so I guess it won't hurt
if I eat just a little bit more.
~ Jack Prelutsky
Return to Index of Thanksgiving Poems
---
Sharing Good Times and Reminiscing on the Holidays...

Imagine the fun of reminiscing and laughing while putting together a puzzle of that special family photo that brings back fond memories.
"A photograph can be an instant
of life captured for eternity
that will never cease
looking back at you."
― Brigitte Bardot

---
T..... is for our thankfulness for many joys and blessings...
H..... is for our homes so warm and bright...
A..... is for autumn, time for harvest and abundance...
N..... is for nature's beauty and delight...
K..... is for the kitchens where good food is cooked with love...
S..... for spicy fragrances in the air...
G..... is for the gathering of family and friends...
I..... for the inheritance we share...
V..... is for the vision that the Pilgrims held so dear...
I..... is for high ideals in all they planned...
N..... is for our native country brave and great and free...
G..... for God's great goodness to our land.
~ Unknown Author
Return to Index of Thanksgiving Poems
Gettin' together to smile an' rejoice,
An' eatin' an' laughin' with folks of your choice;
An' kissin' the girls an' declarin' that they
Are growin more beautiful day after day;
Chattin' an' braggin' a bit with the men,
Buildin' the old family circle again;
Livin' the wholesome an' old-fashioned cheer,
Just for awhile at the end of the year.
Greetings fly fast as we crowd through the door
And under the old roof we gather once more
Just as we did when the youngsters were small;
Mother's a little bit grayer, that's all.
Father's a little bit older, but still
Ready to romp an' to laugh with a will.
Here we are back at the table again
Tellin' our stories as women an men.
Bowed are our heads for a moment in prayer;
Oh, but we're grateful an' glad to be there.
Home from the east land an' home from the west,
Home with the folks that are dearest an' best.
Out of the sham of the cities afar
We've come for a time to be just what we are.
Here we can talk of ourselves an' be frank,
Forgettin' position an' station an' rank.
Give me the end of the year an' its fun
When most of the plannin' an' toilin' is done;
Bring all the wanderers home to the nest,
Let me sit down with the ones I love best,
Hear the old voices still ringin' with song,
See the old faces unblemished by wrong,
See the old table with all of its chairs
An I'll put soul in my Thanksgivin' prayers.

~ Edgar Albert Guest, (1881-1959)
Return to Index of Thanksgiving Poems
Let us give thanks to God above,
Thanks for expressions of His love,
Seen in the book of nature, grand
Taught by His love on every hand.
Let us be thankful in our hearts,
Thankful for all the truth imparts,
For the religion of our Lord,
All that is taught us in His word.
Let us be thankful for a land,
That will for such religion stand;
One that protects it by the law,
One that before it stands in awe.
Thankful for all things let us be,
Though there be woes and misery;
Lessons they bring us for our good-
Later 'twill all be understood.
Thankful for peace o'er land and sea,
Thankful for signs of liberty,
Thankful for homes, for life and health,
Pleasure and plenty, fame and wealth.
Thankful for friends and loved ones, too,
Thankful for all things, good and true,
Thankful for harvest in the fall,
Thankful to Him who gave it all.

~ Lizelia Augusta Jenkins Moorer
Return to Index of Thanksgiving Poems
Thanksgiving comes but once a year,
But when it comes it brings good cheer.
For in my storehouse on this day
Are piles of good things hid away.
Each day I've worked from early morn
To gather acorns, nuts, and corn,
Till now I've plenty and to spare
Without a worry or a care.
So light of heart the whole day long,
I'll sing a glad Thanksgiving song.
~ Thornton W. Burgess
Return to Index of Thanksgiving Poems
Over the river and through the wood,
To Grandfather's house we go;
The horse knows the way
To carry the sleigh
Through the white and drifted snow.
Over the river and through the wood,
Oh, how the wind does blow!
It stings the toes,
And bites the nose,
As over the ground we go.
Over the river and through the wood,
Trot fast, my dapple gray!
Spring over the ground,
Like a hunting hound,
For this is Thanksgiving-Day.
Over the river and through the wood,
And straight through the barnyard gate!
We seem to go
Extremely slow,
It is so hard to wait!
Over the river and through the wood;
Now Grandmother's cap I spy!
Hurrah for the fun!
Is the pudding done?
Hurrah for the pumpkin pie!
~ Lydia Maria Child
Return to Index of Thanksgiving Poems
Thanksgiving Day will soon be here
It comes around but once a year
If I could only have my way,
We'd have Thanksgiving every day.
~ Unknown Author
Return to Index of Thanksgiving Poems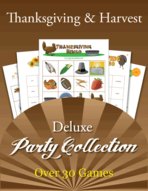 Deluxe Thanksgiving and Fall Harvest
Games Collection
Over 30 Fall & Harvest and Thanksgiving games, including all new games and Personalize It! games as well.

Answer keys are always included.
---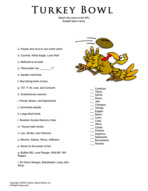 Turkey Bowl

What's the number one sport viewed on Thanksgiving day?

Football, of course! See who will be the first sports fan to match these NFL teams from the clues given.

Answer key included.
---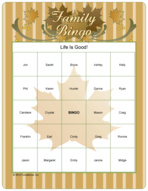 Thanksgiving Family Bingo
This fun bingo twist is one guests will love!

Instead of random words in the squares, type in their names! Guests will be delighted when they hear their name called.

Perfect for Thanksgiving holiday parties and of course, Family Reunions.

Generator makes multiple cards, just tell it how many guests you have, type in your words, and it makes them all for you! Call card included.

---
Return to Index of Thanksgiving Poems
Thanksgiving is
a time of gratitude to God, our Creator and Provider,
whose guidance and care go before us...
and whose love is with us forever.
Thanksgiving is
a time to reflect on the changes,
to remember that we, too, grow and change
from one season of life to another.
Thanksgiving is
a time of changing seasons, when leaves turn golden
in Autumn's wake and apples are crisp
in the first chill breezes of fall.
Let us remember the true meaning of Thanksgiving.
As we see the beauty of Autumn,
let us acknowledge the many blessings which are ours...
let us think of our families and friends
and let us give thanks in our hearts.
~ Unknown Author
Return to Index of Thanksgiving Poems
This is the feast-time of the year,
When plenty pours her wine of cheer,
And even humble boards may spare
To poorer poor a kindly share.
While bursting barns and granaries know
A richer, fuller overflow.
And they who dwell in golden ease
Blest without toil, yet toil to please.

~ Dora Read Goodale
Return to Index of Thanksgiving Poems
The Pilgrims came across the sea,
And never thought of you and me;
And yet it's very strange the way
We think of them Thanksgiving day.
We tell their story, old and true
Of how they sailed across the blue,
And found a new land to be free
And built their homes quite near the sea.
Every child knows well the tale
Of how they bravely turned the sail
And journeyed many a day and night,
To worship God as they thought right.
~ Annette Wynne
Return to Index of Thanksgiving Poems
Thanksgiving Day is here today,
the great parade is under way,
and though it's drizzling quite a bit,
I'm sure that I'll see all of it.
Great balloons are floating by,
cartoon creatures stories high,
Mickey Mouse and Mother Goose,
Snoopy and a mammoth moose.
Humpty Dumpty, Smokey Bear
hover in the autumn air,
through the windy skies they sway,
I hope that they don't blow away.
Here comes Santa, shaking hands
as he waddles by the stands.
It's so much fun, I don't complain
when now it really starts to rain.
The bands are marching, here they come,
pipers pipe and drummers drum,
hear the tubas and the flutes,
see the clowns in silly suits.
It's pouring now, but not on me,
I'm just as dry as I can be,
I watch and watch, but don't get wet,
I'm watching on our TV set.
~ Jack Prelutsky
Return to Index of Thanksgiving Poems
Thanksgiving day is coming soon,
That long remembered day
When nature gives her blessed boon
To all America.
On that glad day, in all our land,
The people, in their wake,
Give thanks to God, whose mighty hand
Deals blessings good and great.
The roast goose, steaming on the plate,
The sweet potato cobbler,
The cranberry sauce, the pudding baked,
The seasoned turkey gobbler,

All these delights and many more,
From north, south, west and east,
Do all the nation keep in store
For this Thanksgiving feast.
Alas, for those who are denied
This blessed boon of God!
May all the needy be supplied
Like Israel by the rod.
~ Charles Frederick White
Return to Index of Thanksgiving Poems
Twas the night of Thanksgiving, but I just couldn't sleep.
I tried counting backwards, I tried counting sheep.
The leftovers beckoned--the dark meat and white,
but I fought the temptation with all of my might.
Tossing and turning with anticipation,
the thought of a snack became infatuation.
So, I raced to the kitchen, flung open the door
and gazed at the fridge, full of goodies galore.

I gobbled up turkey and buttered potatoes,
pickles and carrots, beans and tomatoes.
I felt myself swelling so plump and so round,
till all of a sudden, I rose off the ground.
I crashed through the ceiling, floating into the sky
With a mouthful of pudding and a handful of pie.
But, I managed to yell as I soared past the trees.......
happy eating to all---pass the cranberries, please!
~ Unknown Author
Return to Index of Thanksgiving Poems
---
Return to Inspirational Poems - from Thanksgiving Poems
Return to Inspiration Oasis Home Page

Like this Page?