Veterans Day Quotes
I've compiled a beautiful collection of Veterans Day quotes along with a very inspirational video tribute to our veterans.
I have such an appreciation for our servicemembers. Please let the veterans and servicemembers in your life know how much you appreciate them.
No one is more cherished in this world than someone who lightens the burden of another. Thank you.
~ Author Unknown

For this FREE 8.5" x 11" printable poster, sign up for my ezine.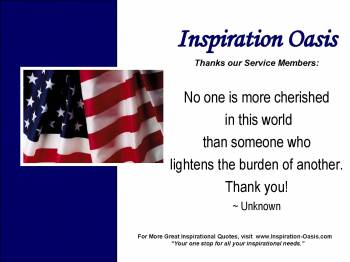 From the world wars of Europe to the jungles of the Far East, from the deserts of the Middle East to the African continent, and even here in our own hemisphere, our veterans have made the world a better place and America the great country we are today.
~ John Hoeven
I think there is one higher office than president and I would call that patriot.
~ Gary Hart
Feeling gratitude and not expressing it is like wrapping a present and not giving it.
~ William Arthur Ward
When our perils are past, shall our gratitude sleep?
~ George Canning
We often take for granted the very things that most deserve our gratitude.
~ Cynthia Ozick
How important it is for us to recognize and celebrate our heroes and she-roes!
~ Maya Angelou
America's veterans embody the ideals upon which America was founded more than 229 years ago.
~ Steve Buyer
As we express our gratitude, we must never forget that the highest appreciation is not to utter words, but to live by them.
~ John Fitzgerald Kennedy
On this Veterans Day, let us remember the service of our veterans, and let us renew our national promise to fulfill our sacred obligations to our veterans and their families who have sacrificed so much so that we can live free.
~ Dan Lipinski
Twenty-five million veterans are living among us today. These men and women selflessly set aside their civilian lives to put on the uniform and serve us.
~ Steve Buyer
We owe our World War II veterans - and all our veterans - a debt we can never fully repay.
~ Doc Hastings
While only one day of the year is dedicated solely to honoring our veterans, Americans must never forget the sacrifices that many of our fellow countrymen have made to defend our country and protect our freedoms.
~ Randy Neugebauer
I can no other answer make, but, thanks, and thanks.
~ William Shakespeare
No duty is more urgent than that of returning thanks.
~ James Allen
The hardest arithmetic to master is that which enables us to count our blessings.
~ Eric Hoffer
Return to Index of Veterans Day Quotes

Bravery is the capacity to perform properly even when scared half to death.
~ Omar Bradley
There is a certain enthusiasm in liberty, that makes human nature rise above itself, in acts of bravery and heroism.
~ Alexander Hamilton
This nation will remain the land of the free only so long as it is the home of the brave.
~ Elmer Davis
Return to Index of Veterans Day Quotes

Valor is stability, not of legs and arms, but of courage and the soul.
~ Michel de Montaigne
Courage is almost a contradiction in terms. It means a strong desire to live taking the form of readiness to die.
~ G.K. Chesterton
There is an amazing something in the American psyche which speaks about courage, and it says, 'Yes I can,' ... Yes, we will overcome it all because we have the spirit to do so.
~ Maya Angelou

Return to Index of Veterans Day Quotes
Freedom is never free.
~ Unknown
The secret of happiness is freedom, and the secret of freedom, courage.
~ Thucydides
The patriot's blood is the seed of Freedom's tree.
~ Thomas Campbell
For what avail the plough or sail, or land or life, if freedom fail?
~ Ralph Waldo Emerson
My God! How little do my countrymen know what precious blessings they are in possession of, and which no other people on earth enjoy!
~ Thomas Jefferson
Return to Index of Veterans Day Quotes
A hero is someone who has given his or her life to something bigger than oneself.
~ Joseph Campbell
Heroism is endurance for one moment more.
~ George F. Kennan
Without heroes, we are all plain people, and don't know how far we can go.
~ Bernard Malamud
Heroes take journeys, confront dragons, and discover the treasure of their true selves.
~ Carol Lynn Pearson
I believe it is the nature of people to be heroes, given the chance.
~ James A. Autry
Nurture your minds with great thoughts, to believe in the heroic makes heroes.
~ Benjamin Disraeli
And each man stands with his face in the light of his own drawn sword. Ready to do what a hero can.
~ Elizabeth Barrett Browning
My heroes are those who risk their lives every day to protect our world and make it a better place–police, firefighters, and members of our armed forces.
~ Sidney Sheldon
Return to Index of Veterans Day Quotes
It is easy to take liberty for granted, when you have never had it taken from you.
~ Author unknown, sometimes attributed to M. Grundler
From time to time, the tree of liberty must be watered with the blood of tyrants and patriots.
~ Thomas Jefferson
They who can give up essential liberty to obtain a little temporary safety deserve neither liberty nor safety.
~ Benjamin Franklin
Where liberty is, there is my country.
~ Benjamin Franklin
Return to Index of Veterans Day Quotes
He loves his country best who strives to make it best.
~ Robert G. Ingersoll
May the sun in his course visit no land more free, more happy, more lovely, than this our own country!
~ Daniel Webster
America's Veterans have served their country with the belief that democracy and freedom are ideals to be upheld around the world.
~ John Doolittle
Return to Index of Veterans Day Quotes
I dream of giving birth to a child who will ask, 'Mother, what was war?'
~ Eve Merriam
Lord, bid war's trumpet cease;
Fold the whole earth in peace.
~ Oliver Wendell Holmes
The more we sweat in peace the less we bleed in war.
~ Vijaya Lakshmi Pandit
Return to Index of Veterans Day Quotes
America's veterans deserve the very best health care because they've earned it.
~ Jim Ramstad
Because all of us believe and understand in the fabric of the common bond of why we call ourselves American is to care for the men and women who wear the uniform; and when they take off the uniform, we care for them when they are veterans.
~ Steve Buyer
But this Veterans Day, I believe we should do more than sing the praises of the bravery and patriotism that our veterans have embodied in the past. We should take this opportunity to re-evaluate how we are treating our veterans in the present.
~ Nick Lampson
Congress should stop treating veterans like they're asking for a hand out when it comes to the benefits they were promised, and they should realize that, were it not for these veterans, there would be nothing to hand out.
~ Nick Lampson
However, as our brave men and women continue to return from the battlefields of the War on Terror, Congress must respond by enacting policies that meet the evolving needs of the veterans community.
~ Randy Neugebauer
Our greatest privilege and responsibility as leaders of the House Committee on Veterans' Affairs is to provide our veterans with a system that cares for their wounds and ensures that they have an opportunity to succeed.
~ Steve Buyer
To honor our national promise to our veterans, we must continue to improve services for our men and women in uniform today and provide long overdue benefits for the veterans and military retirees who have already served.
~ Solomon Ortiz
Return to Index of Veterans Day Quotes
Human progress is neither automatic nor inevitable... Every step toward the goal of justice requires sacrifice, suffering, and struggle; the tireless exertions and passionate concern of dedicated individuals.
~ Martin Luther King, Jr.
Return to Index of Veterans Day Quotes
Regard your soldiers as your children, and they will follow you into the deepest valleys. Look on them as your own beloved sons, and they will stand by you even unto death!
~ Sun Tzu
Soldiers are men... most apt for all manner of services and best able to support and endure the infinite toils and continual hazards of war.
~ Henry Knyvett
In the beginning of a change, the patriot is a scarce man, and brave, and hated and scorned. When his cause succeeds, the timid join him, for then it costs nothing to be a patriot.
~ Mark Twain, Notebook, 1935
Return to Index of Veterans Day Quotes
It is foolish and wrong to mourn the men who died. Rather we should thank God that such men lived.
~ General George S. Patton, Jr.
But fame is theirs - and future daysOn pillar'd brass shall tell their praise;Shall tell - when cold neglect is dead -'These for their country fought and bled'.
~ Philip Freneau
Return to Index of Veterans Day Quotes
Victory belongs to the most persevering.
~ Napoleon Bonaparte
Return to Index of Veterans Day Quotes
I hope you enjoy this patriotic military tribute with music by Toby Keith "American Soldier".

Return to Index of Veterans Day Quotes

In war, there are no unwounded soldiers.
~ José Narosky
There never was a good war or a bad peace.
~ Benjamin Franklin
Wars are not paid for in wartime, the bill comes later.
~ Benjamin Franklin
Return to Index of Veterans Day Quotes
---
Return to Celebration Quotes - from Veterans Day Quotes
Return to Inspiration Oasis Home Page

Like this Page?