Your 1-Stop For All Your Inspirational Needs
Inspiration Oasis is your special place where you can visit to have your spirits lifted. There are lots of inspirational quotes, heart-felt poems, motivational videos, and sections devoted to helping you develop key life skills to help you maintain a positive mental outlook on life. We will also provide you lots of reasons to celebrate life and laugh ;-)

If you like this ezine, please do a friend and me a big favor and "pay it forward."

If a friend forwarded this ezine to you and you like what you read, please subscribe by visiting my subscription page where you can view back issues and see the beautiful inspirational posters that are my gift of appreciation to you.

If you want a daily inspirational quote, follow @InspireOasis on Twitter.
Table of Contents
This issue is devoted to celebrating the start of the football season.



Top 5 Inspirational Football Quotes - Football is a Metaphor for Life

Video - What it Takes to Be #1

Let's Celebrate!

What's New

Tools for Living an Inspired Life

Comments? Ideas? Feedback?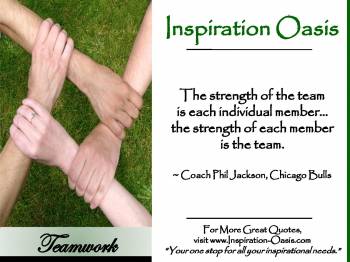 To gain access to this FREE printable poster (Strength of a Team) with this quote, click here and enter password "posters" (without the quotes).

1. The strength of the team is each individual member...the strength of each member is the team.
~ Coach Phil Jackson, Chicago Bulls

In life no person is an island, we all depend on each other. It is in community that we gain strength or are encouraged when we are experiencing trials. It is a privilege to encourage the people in our lives. We never know when we will depend on the kind word or support of another. So plant lots of words of encouragement and reap the bountiful harvest of benevolence you sow.

2. The only place you can win a football game is on the field, the only place you can lose it is in your hearts.
~ Darrell Royal

In the game of life, we fail most often when we lose heart and no longer believe we can achieve our burning desires. That is why it is essential that we keep our mind filled with positive optimistic thoughts and read stories of triumph over tragedy, so we never forget the strength and power of the human spirit.

That is why I developed the Inspiration Oasis website. I wanted a place where people (and myself) could go and find inspiration and encouragement when they are worn out from the trials of life.

3. If anything goes bad, I did it. If anything goes semi-good, we did it. If anything goes really good, then you did it. That's all it takes to get people to win football games for you.
~ Paul Bear Bryant

I just love the above quote! What a great formula for earning the admiration of anyone whom you have authority over, whether it is a subordinate in the workplace or a child. Think of how much more cooperation you would receive in your life if you adopted this mindset!

4. It's not whether you get knocked down, it's whether you get back up.
~ Vince Lombardi Buy this Lombardi poster with this quote

Everyone will have setbacks in life, it is the individuals that fierce determination that will get up one more time than they are pushed down that end up living a successful life.

Develop that bulldog on a bone mentality that says if something shakes you off your desired path, that there will only be an instant before you are racing back to the pursuit of your prize with more fervor than when you experienced that minor detour in the pursuit of your goal.

5. Success is not forever and failure isn't fatal.
~ Don Shula

Just as the sun rises and we experience sunshine and the sunsets and we experience darkness, so it is our lives. There are natural rhythms in life, like the tide coming in and the tide going out. It is easy to accept in nature the necessity of the ebb and flow of life. We do not panic when the tide goes out because we know that in a matter of time the tide will come back in, so it is in life.

Many a successful person has stated that they learned more from their trials than their successes. In fact they credit their successes to the valuable lessons they learned in their failures. So why not relax and embrace the rhythm of life and demand that the temporary periods of "failure" in your life teach you what you need to do differently to be back on the up-swing of life.

For more great quotes on Football and the lessons it teaches check out the following pages:

How to Promote Teamwork

Inspirational Football Quotes

Leadership Quotes

Teamwork Quotes

Vince Lombardi Quotes



Enjoy this 3 minute motivational video on What It Takes to Be #1 by one of the best football coaches ever… Vince Lombardi!






Whenever you need a quick motivational video, check out my 3-Minute Motivational Videos page.

I'm one who is always looking for reasons to celebrate. Here are some known and little known reasons to celebrate in September!

Did you know that the month of September has been deemed as National Courtesy Month? It's true!

Why not decide that this September you are going to make a conscious effort to be more courteous? You might be surprised to find the level of cooperation you'll experience if you take on this challenge.

Weekly Observances in the month of September:

3rd week - National Flower Week
4th week - National Dog Week
4th week - National Roller Skating Week


Special Days in September to Celebrate:

9/2/12 - National Blueberry Popsicle Day
9/3/12 - Labor Day
9/5/12 - NFL football season starts!
9/6/12 - Read a Book Day
9/9/12 - National Grandparents Day & Teddy Bear Day
9/11/12 - Patriot Day – World Trade Center Remembrance Day
9/12/12 - National Chocolate Milk Shake Day
9/13/12 - Positive Thinking Day
9/16/12 - Rosh Hashanah begins at sundown
9/21/12 - International Day of Peace
9/22/12 - The 1st Day of Fall
9/24/12 - National Bluebird of Happiness Day
9/25/12 - Yom Kippur begins at sundown
9/28/12 - Good Neighbor Day

I hope some of these reasons to celebrate make you smile.

I don't know about you, but I'm celebrating National Blueberry Popsicle Day, just because I want to have an excuse to eat a blueberry Popsicle… and it fits into my budget ;-)

Often times, it is life's simplest pleasures that are remembered with the greatest fondness.

If you still are looking for a reason to celebrate… just remember:



"You can celebrate each and every day of your life
for no reason at all because life is precious
and worthy of being celebrated."
~ Linda Lovejoy



This last month I've been busy creating new pages and updating pages on my site that include:

Anthony Robbins Quotes

Engagement Announcement

Engagement Gift Ideas

Engagement Party Ideas

Engagement Quotes

Engagement Toasts

Marriage Survival Kit

Stephen Covey Quotes

In this innovative program, management expert Ken Blanchard and winning NFL coach Don Shula team up to share their powerful secrets of effective coaching in everyday situations. You'll learn:


The five great leadership principles of the COACH acronym


How to unleash the excellence in anyone


The importance of vision, conviction, credibility and adaptability in today's leaders


Why and how to "walk your talk"


And much more . . .



I'd love to hear from you. Just reply to this ezine and tell me what you think!

See you next month!

Linda
Inspiration Oasis - Your 1-Stop For All Your Inspirational Needs