Engagement Gifts
Your best friend or family member is now engaged. Here are some great engagement gifts for happy couple.

Preparation for Married Life Gifts
Preparation for the Wedding Gifts
These cute and unusual gifts are definitely unique.

His/Hers Engaged T-Shirts
It's official, the couple is engaged.

Why not give them His and Hers T-shirt to let the world know of their news?
Get a camera and catch a photo of the couple in their enaged T-shirts.
---
Marriage Survival Kit
This marriage survival kit is a cute and economical gift that you can make yourself by putting together a few simple items and printing the poster below.
After you signup for the Inspiration Oasis Ezine, you will be emailed a link and password to gain access to print the Marriage Survival Kit or any of my other FREE inspirational posters online.

Ball & Chain Gag Gift
WARNING: You must know that the couple has a great sense of humor before purchasing this gift.
Give this 8" Ball and Chain - Medieval Replica - Wedding Gag Gift at your own risk.
---
Return to Index
of Engagement Gifts
There nothing like a personalized gift to say "I thought about you and got this gift especially for you."
Here are some of my favorites:

The Perfect Gift for the Engaged Couple!
What could be a more appropriate engagement gift than a personalize flute set for them to toast each other at their wedding.
Get this Bride & Groom© Personalized Flute Set at Personalization Mall
"I have found the one whom my soul loves."

---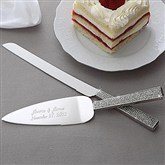 Here is another great engagement gift that can be used at the wedding.
Purchase this Engraved Cake Knife Set.

---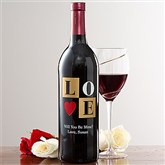 This bottle of wine can have up to 2 lines of personalized text (22 characters).
Purchase this Personalized Bottle of Wine.

---
Get one or all of these gifts:
• Apron
• Recipe Box
• Potholder
Below are the words for the the
Recipe for a Happy Marriage:
1 Cup Consideration
2 Cups Praise
1 Small Pinch of In-Laws
1 Teaspoon Contentment
1 Gallon of Patience
2 Tablespoons Flattery
1 Cup Encouragement
A Dash of Faith & Trust
Blend well.
Sweeten with generous portions of love.
Keep warm with a steady flame of passion.
Serves 2.
Suggestion: If you get the recipe box, include some of your favorite family recipes to welcome the newest member of the family into the fold.
---
The photo cube and 4"x6" photo frame allows for the couples name and one of the following love quotes:
"Grow old with me,
the best is yet to be."
– Robert Browning
"Love is patient, love is kind,
love is forever, yours and mine."

"To love is to find pleasure
in the happiness of the person loved."
– Leibnix

"If I know what love is,
it is because of you."
– Herman Hesse


---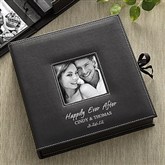 This photo album holds an impressive 100 - 4"x6" photos.
Can personalized with the couples name along with your favorite verse (1 line / 20 characters) such as: "Happily Ever After" etc.
---
Return to Index
of Engagement Gifts
As a couple embarks into a new phase of life there is alot to be learned and it is essential to keep the romance alive as a married couple.
A good all purpose flexible gift that anyone could enjoy is a Prepaid Visa Gift Card.


After a couple gets married, they typically will start preparing more meals at home in order to save money for setting up a household, so cookbooks are always a good option.
Here are some of my favorite cookbooks geared towards they newlyweds.

After a couple gets married, many times they no longer date. That can be disasterous in the romance department, so I recommend gift certificates, or tickets to their favorite recreational activities to keep the spark in their relationship.
Here are some ideas to get you started:
The sooner a couple becomes educated about relationships and marriage the better. Below are some of the best relationship books for couples starting out.


Return to Index
of Engagement Gifts
Now a days, many couples are left to pay for all or most of their wedding expenses.
If that is the case, providing an engagement gift that helps defray the wedding expenses would be greatly appreciated.
Appreciated items could include:
I've provided a review of what I believe to the one of the best wedding websites around.

A gift of a Wedding Website, will keep everybody up-to-day on the wedding plans.

I like eWedding.com the best because of their well-designed themes. View their themes now.
Some of my favorite features include: photo albums, videos and music, RVSP management, gift registries, and polls. View all features now.

They offer packages ranging from FREE to platinum to suit your needs. You can upgrade at any time.

Return to Index
of Engagement Gifts
---
Return to Gift Ideas - from Engagement Gifts
Return to Inspiration Oasis Home Page
Like this Page?