Engagement Announcement
An official engagement announcement is in order, now that he popped the question and you said "Yes". It is important to tell the people closest to you first. After that, a more formal announcement is in order.
Here are some great ways to make your announcement:
Novel Ways to Announce Your Engagement
Wedding Websites
Engagement Party Ideas
Quotes/Poems Suitable for Announcement or Wedding Website

Engage-Mints
For a really original way of announcing your engagement, I like the "Engage Mints". They come in many styles to suit your taste.
Hand them out as party favors at the engagement party or simply hand them to your friends and family members when you give them the good news.
It is a nice tangible and appreciated way to share your good news.

---
Save the Date Cards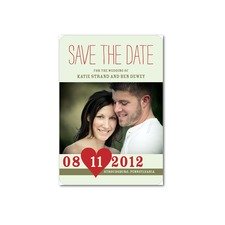 Another great idea is the "Save the Date" cards. You can choose from postcards, magnets, and photo cards.
The magnets measure 3.38"x4.88" and can be mailed in a standard 3.5" x 5" envelope or can be used as a party favor at your engagement party.
There is a large selection of styles to choose from.


---
His / Hers Engaged T-Shirts
If you are a practical joker or love see a surprised look on people's faces, this may be the option for you.
---
Return to Index of Engagement Announcement

Wedding websites are a great way to keep everybody up-to-date on your wedding plans.
I've reviewed several wedding websites to advise you of their features.
eWeddings.com
The thing I like best about eWedding.com is their well-designed themes.
View their themes now.
Some of my favorite features include: photo albums, videos and music, RVSP management, gift registries, and polls.
View all features now.

They offer packages ranging from FREE to platinum to suit your needs. You can upgrade at any time.

---
WeddingTracker from The Knot
WeddingTracker offers a 2 week FREE subscription to discover all of its great features!
No credit card is required for free trial. After that it has a modest price for the year.
Many pre-designed templates to choose from and even features real couples sites so you can envision your completed website.

---
Wedding Paper Diva - FREE Wedding Website
FREE Wedding Website for 1 year from Wedding Paper Divas to match more than 40 of their bestselling wedding invitations.
You can't argue with the price and they have a nice collection of designs.
Great if you're on a tight budget!


---
Return to Index of Engagement Announcement

I have found the one whom my soul loves.
~ Bible - Song of Solomon 3:4
This is my beloved and this is my friend.
~ Bible - Song of Solomon 5:16
Love is friendship set to music
~ Elizabeth Barrett Browning

To love is to receive a glimpse of heaven.
~ Karen Sunde

Love is just a word until someone comes along to give it meaning.
~ Unknown
Love is composed of a single soul inhabiting two bodies.
~ Aristotle
What lies behind us,
and what lies before us
are tiny matters
compared to what lies within us.
~ Ralph Waldo Emerson
Life without love is like a tree
Without blossom and fruit.
~ Khalil Gibran
A heart that loves is always young.
~ Greek Proverb
To love and be loved is to feel the sun from both sides.
~ David Viscott
Oh my love's like a red, red rose
That's newly sprun in June
Oh my love's like a melody
That's sweetly sung in tune
~ Robert Burns
There is only one happiness in life,
to love and be loved.
~ George Sand
To get the full value of joy
You must have someone to divide it with.
~ Mark Twain
We are, each of us angels with only one wing;
and we can only fly by embracing one another.
~ Luciano de Crescenzo
True love stories never have endings.
~ Richard Bach
Love is the master key that opens the gates of happiness.
~ Oliver Wendell Holmes
Some love lasts a lifetime. True love lasts forever.
~ Unknown
Where there is love there is life.
~ Mahatma Gandhi
You know you're in love when you can't fall asleep
because reality is finally better than your dreams.
~ Dr. Seuss
Love reminds you that nothing else matters.
~ Amy Bushnell
Love is patient and kind.
Love is not jealous or boastful or proud or rude.
It does not demand its own way.
It is not irritable, and it keeps no record of being wronged.
It does not rejoice about injustice but rejoices whenever the truth wins out.
Love never gives up, never loses faith, is always hopeful,
and endures through every circumstance.
~ Bible - 1 Corinthians 13:4-7 (NLT)
Return to Index of Engagement Announcement
---
Return to Inspiration Oasis Home Page - from Engagement Announcement

Like this Page?