Happy Birthday Quotes
Explore this comprehensive collection of happy birthday quotes for all your birthday needs.
Find that "just right" birthday quote for a male, a female, young, or old.
Discover what famous people are saying about birthdays, aging, and landmark birthdays.

Choose an inspirational or funny birthday quote. Even discover proverbs about birthdays.
Want to send a
REALLY Funny eCard?
Imagine the surprise on the recipient's face when they receive a hilarious ecard with their face and/or your face on the animated characters.
Must see!
"Laughter is the shortest distance between two people." ― Victor Borge
---
This section contains a handful of the editor's favorite birthday quotes.
To find a larger selection of birthday quotes for that special person, look at the Collection of Happy Birthday Quotes Index and select the category that best applies to the birthday person.

Beautiful young people are accidents of nature, But beautiful old people are works of art.
~ Eleanor Roosevelt
Old age isn't so bad when you consider the alternatives.
~ Maurice Chevalier
Some people, no matter how old they get, never lose their beauty - they merely move it from their faces into their hearts.
~ Martin Buxbaum
No wise man ever wished to be younger.
~ Jonathan Swift
May you live all the days of your life.
~ Jonathan Swift
Few women admit their age. Few men act theirs.
~ Unknown
You know you're getting old when all the names in your black book have M.D. after them.
~ Arnold Palmer
Old age is like everything else. To make a success of it, you've got to start young.
~ Fred Astaire
Grow old along with me!
The best is yet to be,...
~ Robert Browning
There is a season, a time for every purpose under heaven.
~ Bible Ecclesiastes 3:1
Because time itself is like a spiral, something special happens on your birthday each year: The same energy that God invested in you at birth is present once again.
~ Menachem Mendel Schneerson
A diplomat is a man who always remembers a woman's birthday but never remembers her age.
~ Robert Frost
Youth is a disease from which we all recover.
~ Dorothy Fulheim
Live as if you were to die tomorrow, learn as if you were to live forever.
~ Mahatma Gandhi
The more you praise and celebrate your life, the more there is in life to celebrate.
~ Oprah Winfrey
Birthdays are good for you. Statistics show that the people who have the most live the longest.
~ Reverend Larry Lorenzoni

For this FREE 8.5" x 11" printable poster, sign up for my ezine.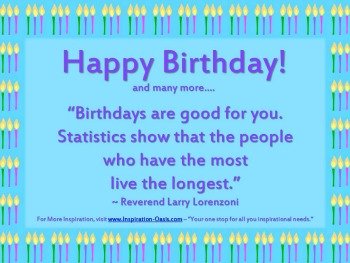 Return to Index of Happy Birthday Quotes

Like this Page?