About Me - Linda Lovejoy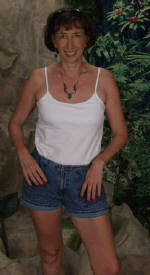 Hello everyone!
My name is Linda Lovejoy and I am the creator of this website.
I am licensed mental health counselor with over 10 years' experience working with a variety of populations:
Military service members and their families
Patients with terminal diagnosis and their families
Patients with serious medical diagnoses and ensuing depression
Severely and chronically mentally ill patients
Trauma survivors
At-risk kids and their families
I got into mental health after healing from my own childhood trauma. I was abused physically, emotionally, and sexually. It took me many years of numerous surgeries to reconstruct my broken body, learn to walk without a limp after having numerous surgeries on my knees, cross-train my brain from head trauma, facial reconstruction, and years of psychotherapy to heal from the abuse. For many years I thought I'd never be happy again or feel whole. I told God if I got well, I'd go back and help others to heal. That was why I left a good paying job as a software engineer to become a therapist.
After over 10 years as a therapist, when I was on a Department of Defense contract to provide counseling support for the service members and their families, my world changed. My company lost that contract and 500 mental health professionals in my area were out of work. I was hard pressed to find any job. I was out of work for about 9 months.
"If life gives you lemons, make lemonade" ~ Dale Carnegie
It was at this time I decided to combine both of my skillsets that of being a programmer and that of being a positive psychology therapist to create this website… and Inspiration Oasis was born.
A great portion of this site is devoted to inspiration quotes. I just love motivational quotes because they help to focus the mind on the positive… and we are much happier when we focus on uplifting thoughts rather than hardship. With a more positive mind, we are able to move in the direction of our hopes and dreams.
I've included some sections of life skills to assist you on your journey to wholeness and happiness.
This site is in NO way a replacement for therapy, but it is designed to be an oasis to come to gain inspiration and learn life skills to help keep you more positive.
May you always experience LOVE and JOY,
Linda Lovejoy, MA, LMHC
---
Return to Inspiration Oasis Home Page from Linda Lovejoy