Christmas Quotes
I hope you enjoy this collection of Christmas quotes. They are great for Christmas cards. The selection of quotes ranges from quotes appropriate for Christians to slack stick funny quotes about the holiday and it's crazy traditions by some of our top comedians. Enjoy the season.
May you feel the Christmas spirit throughout the year!
Little boy...
Buy This at Allposters.com
Christmas waves a magic wand over this world, and behold, everything is softer and more beautiful.
~ Norman Vincent Peale
Christmas is the gentlest, loveliest festival of the revolving year - and yet, for all that, when it speaks, its voice has strong authority.
~ W.J. Cameron
Christmas is the day that holds all time together.
~ Alexander Smith
I have always thought of Christmas time, when it has come round, as a good time; a kind, forgiving, charitable time; the only time I know of, in the long calendar of the year, when men and women seem by one consent to open their shut-up hearts freely, and to think of people below them as if they really were fellow passengers to the grave, and not another race of creatures bound on other journeys.
~ Charles Dickens
Return to Index of Christmas Quotes

Christmas is a necessity. There has to be at least one day of the year to remind us that we're here for something else besides ourselves.
~ Eric Sevareid
Christmas is a day of meaning and traditions, a special day spent in the warm circle of family and friends.
~ Margaret Thatcher
Christmas is a bridge. We need bridges as the river of time flows past. Today's Christmas should mean creating happy hours for tomorrow and reliving those of yesterday.
~ Gladys Tabor (Still Cove Journal)
Christmas is cold, and warmth,
Forgiveness, and tender smiles;
A handclasp firm, a letter flying
Across the snowy miles.
~ Lynda Schlomann ("Christmas")
Return to Index of Christmas Quotes

Christmas is doing a little something extra for someone.
~ Charles Schulz
Christmas is not a date. It is a state of mind.
~ Mary Ellen Chase (New York Times)
Christmas is the happiness that lights our children's eyes.Christmas is a song of bells ringing through the skies.Christmas is a time of peace, of contentment deep within,A time of love and silent hope that years will never dim.
~ Sherrill Thompson ("Christmas Is…")
Christmas is the keeping-place for memories of our innocence.
~ Joan Mills
Return to Index of Christmas Quotes

It's the most wonderful time of the year.
With the kids jingle belling,
and everyone telling you,
"Be of good cheer,"
It's the most wonderful time of the year.
~ Eddie Pola and George Wyle ("It's The Most Wonderful Time Of The Year")
To celebrate the heart of Christmas is to forget ourselves in the service of others.
~ Henry C. Link
Return to Index of Christmas Quotes
[I]t is the one season of the year when we can lay aside all gnawing worry, indulge in sentiment without censure, assume the carefree faith of childhood, and just plain "have fun." Whether they call it Yuletide, Noel, Weinachten, or Christmas, people around the earth thirst for its refreshment as the desert traveller for the oasis.
~ D.D. Monroe
The earth has grown old with its burden of care
But at Christmas it always is young,
The heart of the jewel burns lustrous and fair
And its soul full of music breaks the air,
When the song of angels is sung.
~ Phillips Brooks
Christmas is a time to open our hearts to God and his gifts. Just like the rest of the year.
~ Unknown
Christmas - that magic blanket that wraps itself about us, that something so intangible that it is like a fragrance. It may weave a spell of nostalgia. Christmas may be a day of feasting, or of prayer, but always it will be a day of remembrance - a day in which we think of everything we have ever loved.
~ Augusta E. Rundel
Return to Index of Christmas Quotes

Blend equal parts of Faith and Hope mixed well with Charity;
Stir in Good Will and Sweet Content and Precious Memory.
Add Kindness, Helpfulness and Joy; of Gratitude don't spare;
Then drop by drop Love's Essence sweet, and Praises freely share.
And don't forget such spices rare as Laughter, Smiles and Fun,Taste often for the best results, ('Tis sweet to mince upon).
Now add a Thankful Heart and then, the recipe's complete,
Your "Merry Christmas" all will like … so try the season's treat.
~ Esther Lloyd Dauber ("Special Treat")
Christmas, my child, is love in action. ... Every time we love, every time we give, it's Christmas.
~ Dale Evans Rogers
I like the Christmas that fulfills my needs ... to be forgiven from greed and selfishness, to fill my empty soul with peace and compassion, for hope and faith and charity, for myself renewed and hope restored in an erring world.
~ Robert D. Wigert ("I Like Christmas")
Return to Index of Christmas Quotes
For to us a child is born, to us a son is given, and the government will be on his shoulders. And he will be called Wonderful Counselor, Mighty God, Everlasting Father, Prince of Peace.
~ Bible - Isaiah 9:6 (NIV)
After Jesus was born in Bethlehem in Judea, during the time of King Herod, Magi from the east came to Jerusalem and asked, "Where is the one who has been born king of the Jews? We saw his star in the east and have come to worship him."
~ Bible - Matthew 2:1-2 (NIV)
But the angel said to them, "Do not be afraid. I bring you good news of great joy that will be for all the people. Today in the town of David a Savior has been born to you; he is Christ the Lord. This will be a sign to you: You will find a baby wrapped in cloths and lying in a manger."
~ Bible - Luke 2:10-12 (NIV)
Return to Index of Christmas Quotes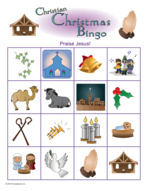 Christian Christmas Picture Bingo
Christian Christmas Bingo made for the youngest players! All squares have pictures so even the little ones can play bingo.
Generator will scramble pictures for unique cards. Call card with pictures included.

---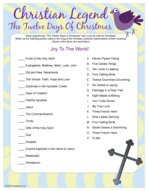 Christian Legend: The 12 Days of Christmas
According to Christian legend, the song "The Twelve Days of Christmas" was really a secret code. True or not, if you know your Bible then you'll be able to compete in this game. Questions like, what were "five golden rings" really referring to?
Answer key included.

---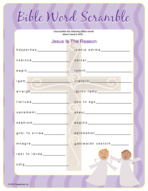 Join the race to unscramble Bible words relating to the Christmas Story! A refreshing change from Santa and gifts in a classic word game for Christmas.

Answer key included.

---
Return to Index of Christmas Quotes
It is good to be children sometimes, and never better than at Christmas when its mighty Founder was a child Himself.
~ Charles Dickens
There's nothing sadder in this world than to awake Christmas morning and not be a child.
~ Erma Bombeck, I Lost Everything in the Post-Natal Depression
Were I a philosopher, I should write a philosophy of toys, showing that nothing else in life need to be taken seriously, and that Christmas Day in the company of children is one of the few occasions on which men become entirely alive.
~ Robert Lynd
Return to Index of Christmas Quotes

Christmas is for children. But it is for grown-ups too. Even if it is a headache, a chore, and nightmare, it is a period of necessary defrosting of chill and hide-bound hearts.
~ Lenora Mattingly Weber
Christmas is sights, especially the sights of Christmas reflected in the eyes of a child.
~ William Saroyan
Return to Index of Christmas Quotes
God grant you the light in Christmas which is faith;
the warmth of Christmas, which is love;
the radiance of Christmas, which is purity;
the righteousness of Christmas, which is justice;
the belief in Christmas, which is truth...
~ Wilda English
Blessed is the season which engages the whole world in a conspiracy of love!
~ Hamilton Wright Mabie
May Christmas bring you happiness,
A song to fill your heart
With all the blessings large and small
The season doth impart.
~ Garnett Ann Schultz ("My Christmas Wish")
Return to Index of Christmas Quotes

When we were children we were grateful to those who filled our stockings at Christmas time. Why are we not grateful to God for filling our stockings with legs?
~ G.K. Chesterton
Bless us Lord, this Christmas, with quietness of mind; Teach us to be patient and always to be kind.
~ Helen Steiner Rice
Christmas day is a day of joy and charity. May God make you very rich in both.
~ Phillips Brooks
Return to Index of Christmas Quotes

A Christmas Blessing
During this Christmas season,
May you be blessed
With the spirit of the season,
which is peace,
The gladness of the season,
which is hope,
And the heart of the season,
which is love
Somehow, not only for Christmas
But all the long year through,
The joy that you give to others
Is the joy that comes back to you.
And the more you spend in blessing
The poor and lonely and sad,
The more of your heart's possessing
Returns to you glad.
~ John Greenleaf Whittier
Return to Index of Christmas Quotes
Struggling with the 'let-down' after Christmas? Look under the Tree of Life, you'll find an inexhaustible supply of gifts from the Prince of Peace waiting there for you to open the year round.
~ Katherine Walden
I can understand people simply fleeing the mountainous effort Christmas has become... but there are always a few saving graces and finally they make up for all the bother and distress.
~ May Sarton
I hear that in many places something has happened to Christmas;
that it is changing from a time of merriment and carefree gaiety to a holiday which is filled with tedium;
that many people dread the day and the obligation to give Christmas presents is a nightmare to weary, bored souls;
that the children of enlightened parents no longer believe in Santa Claus;
that all in all, the effort to be happy and have pleasure makes many honest hearts grow dark with despair instead of beaming with good will and cheerfulness.
~ Julia Peterkin, A Plantation Christmas, 1934
Return to Index of Christmas Quotes
Perhaps the best Yuletide decoration is being wreathed in smiles.
~ Unknown
No matter how carefully you stored the lights last year, they will be snarled again this Christmas.
~ Robert Kirby
The outdoor Christmas lights, green and red and gold and blue and twinkling, remind me that most people are that way all year round--kind, generous, friendly and with an occasional moment of ecstasy. But Christmas is the only time they dare reveal themselves.
~ Harlan Miller (Better Homes and Gardens)
Return to Index of Christmas Quotes
There are no strangers on Christmas Eve.
~ Mildred Cram and Adele Comandini
Christmas Eve was a night of song that wrapped itself about you like a shawl. But it warmed more than your body. It warmed your heart...filled it, too, with melody that would last forever.
~ Bess Streeter Aldrich (Song of Years)
I dreamed it was Christmas Eve, and while waiting for a green light I noticed the manger scene on the church lawn. It's all so overwhelming, this Christmas business, I thought. The shopping and singing and partying and gift-wrapping and Santa Claus and Jesus. I feel wonderful then guilty then joyful then confused. God help me, I thought. And the light changed, and the baby in the manger smiled.
~ Joe Hickman
'Twas the night before Christmas, when all through the house
Not a creature was stirring, - not even a mouse:
The stockings were hung by the chimney with care,
In hopes that St Nicholas soon would be there....
~ Clement Clarke Moore
Return to Index of Christmas Quotes
When Christ entered our world, he didn't come to brighten our Decembers, but to transform our lives.
~ Rich Miller
There has been only one Christmas - the rest are anniversaries.
~ W.J. Cameron
Only in souls the Christ is brought to birth,
And there He lives and dies.
~ Alfred Noyes
Jesus, the Light of the World, as we celebrate your birth... may we begin to see the world in the light of understanding you give us. As you chose the lowly, the outcasts, and the poor to receive the greatest news the world had ever known, so may we worship you in meekness of heart. May we also remember our brothers and sisters less fortunate than ourselves in this season of giving. Amen.
~ Karen L. Oberst
Return to Index of Christmas Quotes

Let us remember that the Christmas heart is a giving heart, a wide open heart that thinks of others first. The birth of the baby Jesus stands as the most significant event in all history, because it has meant the pouring into a sick world the healing medicine of love which has transformed all manner of hearts for almost two thousand years... Underneath all the bulging bundles is this beating Christmas heart.
~ George Matthew Adams (The Christmas Heart)
Late on a sleepy, star-spangled night, those angels peeled back the sky just like you would tear open a sparkling Christmas present. Then, with light and joy pouring out of Heaven like water through a broken dam, they began to shout and sing the message that baby Jesus had been born. The world had a Savior! The angels called it "Good News", and it was.
~ Larry Libby ("The Angels Called it Good News" in Christmas Stories for the Heart)
The spirit of Christmas needs to superseded by the Spirit of Christ. The spirit of Christmas is annual; the Spirit of Christ is eternal. The spirit of Christmas is sentimental; the Spirit of Christ is supernatural. The spirit of Christmas is a human product; the Spirit of Christ is a divine person. That makes all the difference in the world.
~ Stuart Briscoe
Return to Index of Christmas Quotes

If God had a refrigerator, your picture would be on it. If He had a wallet, your photo would be in it. He sends you flowers every spring and a sunrise every morning. Whenever you want to talk, He'll listen. He could live anywhere in the universe, and He chose your heart. What about the Christmas gift He sent you in Bethlehem; not to mention that Friday at Calvary.
~ Joe Gatuslao
Fail not to call to mind, in the course of the twenty-fifth of this month, that the Divinest Heart that ever walked the earth was born on that day; and then smile and enjoy yourselves for the rest of it; for mirth is also of Heaven's making.
~ Leigh Hunt
Great little One! whose all-embracing birth
Lifts Earth to Heaven, stoops Heaven to Earth.
~ Richard Crashaw
Return to Index of Christmas Quotes

Christmas in Bethlehem. The ancient dream: a cold, clear night made brilliant by a glorious star, the smell of incense, shepherds and wise men falling to their knees in adoration of the sweet baby, the incarnation of perfect love.
~ Lucinda Franks
Off to one side sits a group of shepherds. They sit silently on the floor, perhaps perplexed, perhaps in awe, no doubt in amazement. Their night watch had been interrupted by an explosion of light from heaven and a symphony of angels. God goes to those who have time to hear him--and so on this cloudless night he went to simple shepherds.
~ Max Lucado ("The Arrival" in Christmas Stories for the Heart)
The star of Bethlehem was a star of hope that led the wise men to the fulfillment of their expectations, the success of their expedition. Nothing in this world is more fundamental for success in life than hope, and this star pointed to our only source for true hope: Jesus Christ.
~ D. James Kennedy ("Following the Star" in Christmas Stories for the Heart)
This is Christmas: not the tinsel, not the giving and receiving, not even the carols, but the humble heart that receives anew the wondrous gift, the Christ.
~ Frank McKibben
Return to Index of Christmas Quotes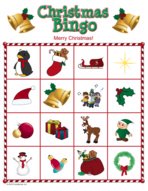 Bingo made for the youngest players!

All squares have pictures so even the kids can play bingo.
Generator will scramble pictures for unique cards.

Call card with pictures included.
---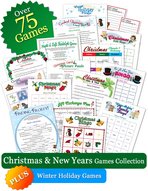 Deluxe Christmas and New Years Games Collection
Over 75 Printable Christmas, New Years and Winter games included in this package!
Who knew you might be unwrapping a bit of laughter and Christmas music as guests hum along, tag along, share answers, guard answers, or get into the game craze of the holidays!

Whether your Christmas means Santa and reindeer, snowmen and holiday lights, or the nativity and Christmas angels...with over 75 printable games (and answer keys) that you can print from your computer, you'll be ringing in Christmas and the New Year happy.
---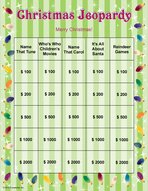 From Christmas Trivia to Name That Tune, this team game pits guests against each other in a test of Christmas knowledge! With 6 different game boards, your guests won't be disappointed!

Answer key included.
---
Return to Index of Christmas Quotes
---
Christmas gift suggestions:
To your enemy, forgiveness.
To an opponent, tolerance.
To a friend, your heart.
To a customer, service.
To all, charity.
To every child, a good example.
To yourself, respect.
~ Oren Arnold
The best of all gifts around any Christmas tree: the presence of a happy family all wrapped up in each other.
~ Burton Hillis
May Peace be your gift at Christmas and your blessing all year through!
~ Unknown
Gifts of time and love are surely the basic ingredients of a truly merry Christmas.
~ Peg Bracken
I love the Christmas-tide, and yet,
I notice this, each year I live;
I always like the gifts I get,
But how I love the gifts I give!
~ Carolyn Wells
Return to Index of Christmas Quotes

Nothing's as mean as giving a little child something useful for Christmas.
~ Kin Hubbard
Do give books - religious or otherwise - for Christmas. They're never fattening, seldom sinful, and permanently personal.
~ Lenore Hershey
The ideal Christmas gift is money, but the trouble is you can't charge it.
~ Bill Vaughan
One of the nice things about Christmas is that you can make people forget the past with a present.
~ Unknown
If there is no joyous way to give a festive gift, give love away.
~ Unknown
Return to Index of Christmas Quotes
Christmas is the season when you buy this year's gifts with next year's money.
~ Unknown
Christmas is a time when kids tell Santa what they want and adults pay for it. Deficits are when adults tell the government what they want and their kids pay for it.
~ Richard Lamm
Oh, for the good old days when people would stop Christmas shopping when they ran out of money.
~ Unknown
Christmas begins about the first of December with an office party and ends when you finally realize what you spent, around April fifteenth of the next year.
~ P.J. O'Rourke, Modern Manners
Christmas is a race to see which gives out first - your money or your feet.
~ Unknown
Return to Index of Christmas Quotes
I will honor Christmas in my heart, and try to keep it all the year.
~ Charles Dickens, Ebenezer Scrooge, A Christmas Carol
It is Christmas in the heart that puts Christmas in the air.
~ W.T. Ellis
I wish we could put up some of the Christmas spirit in jars and open a jar of it every month.
~ Harlan Miller
For the spirit of Christmas fulfills the greatest hunger of mankind.
~ Loring A. Schuler
At Christmas
A man is at his finest towards the finish of the year;
He is almost what he should be when the Christmas season's here;
Then he's thinking more of others than he's thought the months before,
And the laughter of his children is a joy worth toiling for.
He is less a selfish creature than at any other time;
When the Christmas spirit rules him he comes close to the sublime...
~ Edgar Guest
Return to Index of Christmas Quotes

Mankind is a great, an immense family. This is proved by what we feel in our hearts at Christmas.
~ Pope John XXIII
Christmas is not a time or a season but a state of mind. To cherish peace and good will, to be plenteous in mercy, is to have the real spirit of Christmas.
~ Calvin Coolidge, 1927
Wouldn't life be worth the living
Wouldn't dreams be coming true
If we kept the Christmas spirit
All the whole year through?
~ Unknown
Christmas is not just a time for festivity and merry making. It is more than that. It is a time for the contemplation of eternal things. The Christmas spirit is a spirit of giving and forgiving.
~ J. C. Penney ("Christmas Thoughts")
The Christmas spirit--love--changes hearts and lives.
~ Pat Boone
Return to Index of Christmas Quotes

I truly believe that if we keep telling the Christmas story, singing the Christmas songs, and living the Christmas spirit, we can bring joy and happiness and peace to this world.
~ Norman Vincent Peale
It is the personal thoughtfulness, the warm human awareness, the reaching out of the self to one's fellow man that makes giving worthy of the Christmas spirit.
~ Isabel Currier
The spirit of Christmas can be so wonderfully wrapped up in our hearts, and our way of life, that it is readily manifested by our love and prayers; thus can we make more certain peace on earth to men of good will.
~ George R. Iles
Until one feels the spirit of Christmas, there is no Christmas. All else is outward display--so much tinsel and decorations. For it isn't the holly, it isn't the snow. It isn't the tree not the firelight's glow. It's the warmth that comes to the hearts of men when the Christmas spirit returns again.
~ Anonymous (Pipefuls)
We should try to hold on to the Christmas spirit, not just one day a year, but all 365.
~ Mary Martin
Return to Index of Christmas Quotes
Christmas is the season for kindling the fire of hospitality in the hall, the genial flame of charity in the heart.
~ Washington Irving
For centuries men have kept an appointment with Christmas. Christmas means fellowship, feasting, giving and receiving, a time of good cheer, home.
~ W.J. Ronald Tucker
Tradition: sit with husband in a room lit only by tree lights and remember that our blessings outnumber the lights. Happy Christmas to all.
~ Betsy Cañas Garmon, www.wildthymecreative.com
There is a remarkable breakdown of taste and intelligence at Christmastime. Mature, responsible grown men wear neckties made of holly leaves and drink alcoholic beverages with raw egg yolks and cottage cheese in them.
~ P.J. O'Rourke
Return to Index of Christmas Quotes

Once again we find ourselves enmeshed in the Holiday Season, that very special time of year when we join with our loved ones in sharing centuries-old traditions such as trying to find a parking space at the mall. We traditionally do this in my family by driving around the parking lot until we see a shopper emerge from the mall, then we follow her, in very much the same spirit as the Three Wise Men, who 2,000 years ago followed a star, week after week, until it led them to a parking space.
~ Dave Barry
It comes every year and will go on forever. And along with Christmas belong the keepsakes and the customs. Those humble, everyday things a mother clings to, and ponders, like Mary in the secret spaces of her heart.
~ Marjorie Holmes
Silver bells, silver bells,
It's Christmas time in the city.
Ring-a-ling, hear them ring,
soon it will be Christmas day.
~ Kate Smith ("Silver Bells")
Return to Index of Christmas Quotes
Never worry about the size of your Christmas tree. In the eyes of children, they are all 30 feet tall.
~ Larry Wilde, The Merry Book of Christmas
The perfect Christmas tree? All Christmas trees are perfect!
~ Charles N. Barnard
The best Christmas trees come very close to exceeding nature.
~ Andy Rooney
O Christmas tree, O Christmas tree,
Of all the trees most lovely!
Each year you bring renewed delight,
A-gleaming in the Christmas night.
~ German Carol ("O Tannenbaum")
Return to Index of Christmas Quotes
From a commercial point of view, if Christmas did not exist it would be necessary to invent it.
~ Katharine Whitehorn
To perceive Christmas through its wrapping becomes more difficult with every year.
~ E.B. White, "The Distant Music of the Hounds," The Second Tree from the Corner, 1954
The Christmas season has come to mean the period when the public plays Santa Claus to the merchants.
~ John Andrew Holmes
Once again, we come to the Holiday Season, a deeply religious time that each of us observes, in his own way, by going to the mall of his choice.
~ Dave Barry
A Christmas shopper's complaint is one of long-standing.
~ Unknown
Even before Christmas has said Hello, it's saying 'Buy Buy'.
~ Robert Paul
Some businessmen are saying this could be the greatest Christmas ever. I always thought that the first one was.
~ Art Fettig
Return to Index of Christmas Quotes
I sometimes think we expect too much of Christmas Day. We try to crowd into it the long arrears of kindliness and humanity of the whole year. As for me, I like to take my Christmas a little at a time, all through the year. And thus I drift along into the holidays - let them overtake me unexpectedly - waking up some fine morning and suddenly saying to myself: "Why, this is Christmas Day!"
~ David Grayson
Remember
This December,
That love weighs more than gold!
~ Josephine Dodge Daskam Bacon
Christmas is not as much about opening our presents as opening our hearts.
~ Janice Maeditere
At Christmas play and make good cheer,
For Christmas comes but once a year
~ Thomas Tusser
Return to Index of Christmas Quotes

Let Christmas not become a thing
Merely of merchant's trafficking
And surface pleasure, but beneath
The childish glamour, let us find
Nourishment for soul and mind.
Let us follow kinder ways
Through our teeming human maze,
And help the age of peace to come
From a Dreamer's martyrdom.
~ Madeline Morse
We should make the Yuletide season an occasion not merely for the giving of material things but an occasion for the giving of that which counts infinitely more … the giving of self.
~ J. C. Penney ("Christmas Thoughts")
Keep your Christmas-heart open all the year round.
~ Jessica Archmint
Whatever else be lost among the years,
Let us keep Christmas still a shining thing;
Whatever doubts assail us, or what fears,
Let us hold close one day, remembering
Its poignant meaning for the hearts of men.
Let us get back our childlike faith again.
~ Grace Noll Crowell
Return to Index of Christmas Quotes

Are you willing to forget what you have done for other people, and to remember what other people have done for you ... to remember the weakness and loneliness of people who are growing old ... Are you willing to believe that love is the strongest thing in the world ... stronger than hate, stronger than evil, stronger than death... Then you can keep Christmas! But you can never keep it alone.
~ Henry van Dyke ("Keeping Christmas" in The Spirit of Christmas)
Christmas is the time for looking ahead courageously through the gates of the swiftly approaching new year ... of resolving that the coming months will reflect a kinder, more forgiving and less heedless person than mirrored in the past.
~ Ellen V. Morgan "Christmas is the Time"
Have you any old grudges you would like to pay,
Any wrongs laid up from a bygone day?
Gather them now and lay them away
When Christmas comes.
Hard thoughts are heavy to carry, my friend,
And life is short from beginning to end;
Be kind to yourself, leave nothing to mend
When Christmas comes.
~ William Lytle ("When Christmas Comes")
Return to Index of Christmas Quotes
Love is what's in the room with you at Christmas if you stop opening presents and listen.
~ Unknown, attributed to a 7-year-old named Bobby
Christmas! The very word brings joy to our hearts. No matter how we may dread the rush, the long Christmas lists for gifts and cards to be bought and given - when Christmas Day comes there is still the same warm feeling we had as children, the same warmth that enfolds our hearts and our homes.
~ Joan Winmill Brown
Christmas is a spirit that flows from one heart to another. It is more precious than rubies and better than gold.
~ Agnes M. Pharo ("What Is Christmas")
Christmas is most truly Christmas when we celebrate it by giving the light of love to those who need it most.
~ Ruth Carter Stapleton
Return to Index of Christmas Quotes

Christmas is not in tinsel and lights and outward show.
The secret lies in an inner glow.
It's lighting a fire inside the heart.
Good will and joy a vital part.
It's higher thought and a greater plan.
It's glorious dream in the soul of man.
~ Wilfred A. Peterson (The Art of Living)
The happiness and love on this one day
Bring thoughts which warm and cheer.
May we keep Christmas in our hearts
Through every day of all the year.
~ Gertrude B. Holman ("The Little Things at Christmas")
Return to Index of Christmas Quotes
Sharing Good Times and Reminiscing on the Holidays...

Imagine the fun of reminiscing and laughing while putting together a puzzle of that special family photo that brings back fond memories.
"A photograph can be an instant
of life captured for eternity
that will never cease
looking back at you."
― Brigitte Bardot

At Christmas, all roads lead home.
~ Marjorie Holmes
Christmas is a time when you get homesick - even when you're home.
~ Carol Nelson
Christmas is the season of joy, of holiday greetings exchanged, of gift-giving,and of families united.
~ Norman Vincent Peale
Friends and relations;
Send salutations;
Just as sure as the stars shine above;
This is Christmas, Christmas my dear;
The time of year to be with the one that you love.
~ Bon Jovi ("Bells Will Be Ringing")
From home to home, and heart to heart, from one place to anotherThe warmth and joy of Christmas, brings us closer to each other.
~ Emily Matthews
Return to Index of Christmas Quotes

I do come home at Christmas. We all do, or we all should. We all come home, or ought to come home, for a short holiday - the longer, the better - from the great boarding school where we are forever working at our arithmetical slates, to take, and give a rest.
~ Charles Dickens
The merry family gatherings--
The old, the very young;
The strangely lovely way they
Harmonize in carols sung.
For Christmas is tradition time--
Traditions that recall
The precious memories down the years,
The sameness of them all.
~ Helen Lowrie Marshall
Return to Index of Christmas Quotes
Create HILARIOUS Holiday eCards featuring you and your friends from JibJab - Click here for Rockin' Around the Christmas Tree!
Lots more hilarious animated ecards to choose from.
Put a smile on everyone's face.

---
The Supreme Court has ruled that they cannot have a nativity scene in Washington, D.C. This wasn't for any religious reasons. They couldn't find three wise men and a virgin.
~ Jay Leno
In the old days, it was not called the Holiday Season;
the Christians called it 'Christmas' and went to church;
the Jews called it 'Hanukkah' and went to synagogue;
the atheists went to parties and drank.
People passing each other on the street would say
'Merry Christmas!'
or 'Happy Hanukkah!'
or (to the atheists) 'Look out for the wall!'
~ Dave Barry, "Christmas Shopping: A Survivor's Guide"
Roses are reddish
Violets are bluish
If it weren't for Christmas
We'd all be Jewish.
~ Benny Hill
The one thing women don't want to find in their stockings on Christmas morning is their husband.
~ Joan Rivers
The worst gift is a fruitcake. There is only one fruitcake in the entire world, and people keep sending it to each other.
~ Johnny Carson
Three phrases that sum up Christmas are: Peace on Earth, Goodwill to Men, and Batteries not Included.
~ Unknown
Return to Index of Christmas Quotes

I once bought my kids a set of batteries for Christmas with a note on it saying, toys not included.
~ Bernard Manning
Mail your packages early so the post office can lose them in time for Christmas.
~ Johnny Carson
I've learned that you can tell a lot a person by the way he or she handles these three things: a rainy day, lost luggage, and tangled Christmas lights.
~ Maya Angelou
Three wise women would have...
asked directions,
arrived on time,
helped deliver the baby,
cleaned the stable,
made a casserole,
brought practical gifts,
and there would be peace on Earth.
~ Unknown
Return to Index of Christmas Quotes
He who has not Christmas in his heart will never find it under a tree.
~ Roy L. Smith
Instead of being a time of unusual behavior, Christmas is perhaps the only time in the year when people can obey their natural impulses and express their true sentiments without feeling self-conscious and, perhaps, foolish. Christmas, in short, is about the only chance a man has to be himself.
~ Francis C. Farley
As long as we know in our hearts what Christmas ought to be, Christmas is.
~ Eric Sevareid
The message of Christmas is that the visible material world is bound to the invisible spiritual world.
~ Unknown
And the Grinch, with his Grinch-feet ice cold in the snow,
stood puzzling and puzzling, how could it be so?
It came without ribbons. It came without tags.
It came without packages, boxes or bags.
And he puzzled and puzzled 'till his puzzler was sore.
Then the Grinch thought of something he hadn't before.
What if Christmas, he thought, doesn't come from a store?
What if Christmas, perhaps, means a little bit more?
~ Dr. Seuss How the Grinch Stole Christmas!
Return to Index of Christmas Quotes

Christmas has lost its meaning for us because we have lost the spirit of expectancy. We cannot prepare for an observance. We must prepare for an experience.
~ Handel H. Brow
The only real blind person at Christmas-time is he who has no Christmas in his heart.
~ Helen Keller
Probably the reason we all go so haywire at Christmas time with the endless unrestrained and often silly buying of gifts is that we don't quite know how to put our love into words.
~ Harlan Miller (Better Homes and Gardens)
Selfishness makes Christmas a burden, love makes it a delight.
~ Unknown
Return to Index of Christmas Quotes
May you have the gladness of Christmas which is hope;
The spirit of Christmas which is peace;
The heart of Christmas which is love.
~ Ada V. Hendricks
What is Christmas? It is tenderness for the past, courage for the present, hope for the future. It is a fervent wish that every cup may overflow with blessings rich and eternal, and that every path may lead to peace.
~ Agnes M. Pahro
Best of all, Christmas means a spirit of love, a time when the love of God and the love of our fellow men should prevail over all hatred and bitterness, a time when our thoughts and deeds and the spirit of our lives manifest the presence of God.
~ George F. McDougall
I am not alone at all, I thought. I was never alone at all. And that, of course, is the message of Christmas. We are never alone. Not when the night is darkest, the wind coldest, the world seemingly most indifferent. For this is still the time God chooses.
~ Taylor Caldwell
Return to Index of Christmas Quotes
I never believed in Santa Claus because I knew no white dude would come into my neighborhood after dark.
~ Dick Gregory
They err who thinks Santa Claus comes down through the chimney; he really enters through the heart.
~ Mrs. Paul M. El
God put Santa Claus on earth to remind us that Christmas is 'sposed to be a happy time.
~ Bill Keane's "Family Circus"
I stopped believing in Santa Claus when I was six. Mother took me to see him in a department store and he asked for my autograph.
~ Shirley Temple
You know you're getting old, when Santa starts looking younger.
~ Robert Paul
Return to Index of Christmas Quotes
One of the most glorious messes in the world is the mess created in the living room on Christmas day. Don't clean it up too quickly.
~ Andy Rooney
Happy, happy Christmas, that can win us back to the delusions of our childish days; that can recall to the old man the pleasures of his youth; that can transport the sailor and the traveller, thousands of miles away, back to his own fire-side and his quiet home!
~ Charles Dickens, The Pickwick Papers, 1836
Our hearts grow tender with childhood memories and love of kindred, and we are better throughout the year for having, in spirit, become a child again at Christmas-time.
~ Laura Ingalls Wilder
When we recall Christmas past, we usually find that the simplest things - not the great occasions - give off the greatest glow of happiness.
~ Bob Hope
Like snowflakes, my Christmas memories gather and dance - each beautiful, unique and too soon gone.
~ Deborah Whipp
Return to Index of Christmas Quotes

Christmas time's for dreaming
Thoughts of long ago…
Holidays of childhood,
Memories all aglow.
~ Alice Kennelly Roberts ("Christmas Time Is…")
Memories and magic is what Christmas is all about.
~ Lynn Johnston ("For Better or For Worse," 12/25/2010)
Something about an old-fashioned Christmas is hard to forget.
~ Hugh Downs
Return to Index of Christmas Quotes
I'm dreaming of a white Christmas,
Just like the ones I used to know,
Where the tree tops glisten
And children listen
To hear sleigh bells in the snow...
~ Irving Berlin
Unless we make Christmas an occasion to share our blessings, all the snow in Alaska won't make it "white".
~ Bing Crosby
A white Christmas fills the churchyard.
~ French Proverb
Return to Index of Christmas Quotes
---
Return to Celebration Quotes - from Christmas Quotes
Return to Inspiration Oasis Home Page
Like this Page?