Halloween Quotes
I hope you enjoy this spooky collection of Halloween quotes, poems, jokes and trivia.
Be sure to check out our Halloween Party Ideas, ranging from Frankenstein theme to Ghost and Graveyard to Great Pumpkin themes and more.
All party ideas complete with invitations, decorations, games, menu, and music.

Send a Spooky Ecard Starring You and Your Friends
Imagine the surprise on the recipient's face when they receive a hilarious ecard with their face and/or your face on the animated characters.
Must see!
"Laughter is the shortest distance between two people." ― Victor Borge
When witches go riding,
and black cats are seen,
the moon laughs and whispers,
'tis near Halloween.
~ Unknown
Halloween wraps fear in innocence,
As though it were a slightly sour sweet.
Let terror, then, be turned into a treat...
~ Nicholas Gordon, poemsforfree.com

Shadows of a thousand years rise again unseen,
Voices whisper in the trees, "Tonight is Halloween!"
~ Dexter Kozen
A gypsy fire is on the hearth,
Sign of the carnival of mirth;
Through the dun fields and from the glade
Flash merry folk in masquerade,
For this is Hallowe'en!
~ Unknown
Eat, drink and be scary.
~ Unknown
Witch and ghost make merry on this last of dear October's days.
~ Unknown
Backward, turn backward,
O Time, in your flight
make me a child again
just for to-night!
~ Elizabeth Akers Allen
On Halloween, witches come true;
Wild ghosts escape from dreams.
Each monster dances in the park....
~ Nicholas Gordon, poemsforfree.com
On Hallowe'en the thing you must do
Is pretend that nothing can frighten you
And if somethin' scares you and you want to run
Just let on like it's Hallowe'en fun.
~ Unknown
When black cats prowl and pumpkins gleam,
May luck be yours on Halloween.
~ Unknown

Return to Index of Halloween Quotes
This Halloween the most popular mask is the Arnold Schwarzenegger mask. And the best part? With a mouth full of candy you will sound just like him.
~ Conan O'Brien
Acting is like a Halloween mask that you put on.
~ River Phoenix
Being in a band you can wear whatever you want - it's like an excuse for Halloween everyday.
~ Gwen Stefani
Clothes make a statement. Costumes tell a story.
~ Mason Cooley
There is nothing that gives more assurance than a mask.
~ Colette
I see my face in the mirror and go, 'I'm a Halloween costume? That's what they think of me?
~ Drew Carey

Return to Index of Halloween Quotes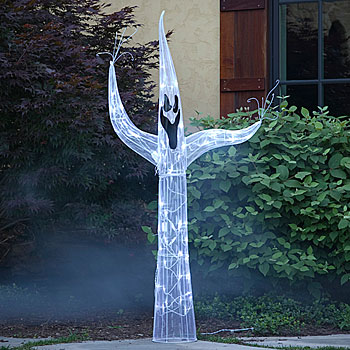 Light Up Lifesize Slender Ghost
This 6' ghost gives an ominous warning to all who are near with its opaque white skin that lights up.
Use this Light Up Lifesize Slender Ghost to decorate your home for Halloween or to add color to your next party or event.
---
Ghosts, like ladies, never speak till spoke to.
~ Richard Harris Barham
As spirits roam the neighborhoods at night,
Let loose upon the Earth till it be light...
~ Nicholas Gordon, poemsforfree.com
At first cock-crow the ghosts must go
Back to their quiet graves below.
~ Theodosia Garrison
I don't know that there are real ghosts and goblins, but there are always more trick-or-treaters than neighborhood kids. ~Robert Brault, www.robertbrault.com
From ghoulies and ghosties
And long-leggedy beasties
And things that go bump in the night,
Good Lord, deliver us!
~ Scottish Saying
If a man harbors any sort of fear, it makes him landlord to a ghost.
~ Lloyd Douglas
A house is never still in darkness to those who listen intently; there is a whispering in distant chambers, an unearthly hand presses the snib of the window, the latch rises. Ghosts were created when the first man awoke in the night.
~ J.M. Barrie
Hark! Hark to the wind! 'Tis the night, they say,
When all souls come back from the far away-
The dead, forgotten this many a day!
~ Virna Sheard

Return to Index of Halloween Quotes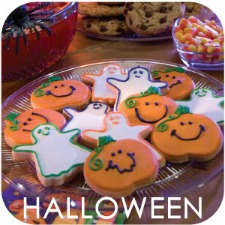 Custom Halloween Cookies
by Cookies by Design
WOW your Halloween guests at your Spookactular party with cookies that tastes as good as they look!
Everybody will be talking about your memorable party.
---
Once in a young lifetime one should be allowed to have as much sweetness as one can possibly want and hold.
~ Judith Olney
Nothing on Earth so beautiful as the final haul on Halloween night.
~ Steve Almond
After eating chocolate you feel godlike, as though you can conquer enemies, lead armies, entice lovers.
~ Emily Luchetti

Return to Index of Halloween Quotes
Why did Dracula's mother give him cough medicine?
Because he was having a coffin fit.
What did Dr. Frankenstein get when he put a goldfish brain in the body of his dog?
I don't know, but it is great at chasing submarines.
Why wasn't there any food left after the monster party?
Because everyone was a goblin.
Why did the vampire's lunch give him heartburn?
It was a stake sandwich.
Dracula decided he need a dog, which breed did he choose?
A bloodhound.
What would you call the ghost of a door-to-door salesman?
A dead ringer.
What do skeletons always order at a restaurant?
Spare ribs!
Who was the most famous French skeleton?
Napoleon bone-apart.
Who won the skeleton beauty contest?
No body.

Return to Index of Halloween Quotes
We've taken the Classic Game of Bingo and pre-filled the card with Halloween items.
Second and third versions included which allows you to customize the game and choose your own words or have blank squares! And with our Game Card Generator, you get a different Halloween Bingo Card for each guest - even if you have 200 players! Generator will scramble items for unique cards. Call card included.
---
Halloween Charades and Pictionary
Two favorite games combined – Charades and Pictionary - for 100% Halloween Party Fun! Over 150 cards covering everything from TV and Movie Costumes to Creepy Things!

Two different illustrations included; one for those who prefer a ghostly themed Halloween game and the other with a variety of background Halloween images.
---
You can't get any cuter than a Halloween Word Scramble game all dressed up for a pumpkin themed Halloween party! It's a perfectly spooktacular Halloween game to play at a kids Halloween party, classroom party - and yes - an adult Halloween party as well! Halloween words are all mixed up and players race to unscramble them.
Answer key included.
---
Return to Index of Halloween Quotes

We used to go around tipping outhouses over, or turning over corn shocks on Halloween.
~ Loretta Lynn

Return to Index of Halloween Quotes
They that are born on Halloween shall see more than other folk.
~ Saying of unknown origin

Return to Index of Halloween Quotes
Halloween is huge in my house and we really get into the "spirits" of things.
~ Dee Snider
A grandmother pretends she doesn't know who you are on Halloween.
~ Erma Bombeck
Bring forth the raisins and the nuts-
Tonight All-Hallows' Spectre struts
Along the moonlit way.
~ John Kendrick Bangs
You wouldn't believe
On All Hallow Eve
What lots of fun we can make,
With apples to bob,
And nuts on the hob,
And a ring-and-thimble cake.
~ Carolyn Wells
May Jack-o-lanterns burning bright
Of soft and golden hue
Pierce through the future's veil and show
What fate now holds for you.
~ Unknown

Return to Index of Halloween Quotes
Questions
1. Which ancient culture gives us many of our Halloween traditions?
2. If you get an unwelcome spirit in your home, according to folklore, what kind of herb should you burn?
3. How many people were hung during the Salem witch trials?
4. According to tradition a person born on Halloween will possess what ability?
5. Which famous person died on Halloween?
6. According to the National Census Bureau how much candy does the average person consume in a year?
7. What does the old English word "Hallow" mean?
8. What percentage of a pumpkin is water?
9. Which Halloween custom began as a way of finding out who would get married first?
10. What was Dr. Frankenstein's first name?
Answers
1. Celtic
2. Sage
3. 19
4. Talk to the dead 5. Harry Houdini or River Phoenix
6. 23.8 lbs
7. Saint
8. 90%
9. Bobbing for apples
10. Victor

Return to Index of Halloween Quotes
Want to send a
REALLY Funny eCard?
Imagine the surprise on the recipient's face when they receive a hilarious ecard with their face and/or your face on the animated characters.
Must see!
"Laughter is the shortest distance between two people." ― Victor Borge
---
Those who believe in telekinetics, raise my hand.
~ Kurt Vonnegut
I'll bet living in a nudist colony takes all the fun out of Halloween.
~ Unknown
Charlie Brown is the one person I identify with. C.B. is such a loser. He wasn't even the star of his own Halloween special.
~ Chris Rock
On Halloween, the parents sent their kids out looking like me.
~ Rodney Dangerfield
Just like a ghost, you've been a-hauntin' my dreams,
So I'll propose on Halloween.
Love is kinda crazy with a spooky little girl like you.
~ Dennis Yost and the Classics IV

Return to Index of Halloween Quotes
Where there is no imagination there is no horror.
~ Arthur Conan Doyle, Sr.
True love is like ghosts, which everyone talks about but few have seen.
~ Unknown

Return to Index of Halloween Quotes
Nothing beats a haunted moonlit night on All Hallows Eve.... And on this fatal night, at this witching time, the starless sky laments black and unmoving. The somber hues of an ominous, dark forest are suddenly illuminated under the emerging face of the full moon.
~ Kim Elizabeth
There are nights when the wolves are silent and only the moon howls.
~ George Carlin
There is something haunting in the light of the moon; it has all the dispassionateness of a disembodied soul, and something of its inconceivable mystery.
~ Joseph Conrad
Stir the fire till it lowe
How like a queen comes forth the lonely Moon
From the slow opening curtains of the clouds
Walking in beauty to her midnight throne!
~ George Croly

Return to Index of Halloween Quotes
On Halloween night, the Great Pumpkin rises from his pumpkin patch and flies through the air with his bag of toys to all the children.
~ Linus, Charlie Brown's Great Pumpkin

I would rather sit on a pumpkin and have it all to myself than be crowded on a velvet cushion
~ Henry David Thoreau
Miraculously, smoke curled out of his own mouth, his nose, his ears, his eyes, as if his soul had been extinguished within his lungs at the very moment the sweet pumpkin gave up its incensed ghost.
~ Ray Bradbury, The Halloween Tree
It was time to take the pumpkin out of the pot and eat it. In the final analysis, that was what solved these big problems of life. You could think and think and get nowhere, but you still had to eat your pumpkin. That brought you down to earth. That gave you a reason for going on. Pumpkin.
~ Alexander McCall Smith, The No. 1 Ladies' Detective Agency
Pumpkins are a curious thing,
They don't dance and they don't sing.
They don't have hair, they don't meow,
They don't look much like a cow.
They just sit around all day,
Out in the fields among the hay,
Sometimes they gather by the stable,
Sometimes they end up on the kitchen table.
But what brings a pumpkin to full life,
Is a guided hand with a carving knife.
~ Suzy Wolf
GOD'S PUMPKIN PATCH
First God picks you from the patch....
Brings you in....
Washes all the dirt off of you....
Then he cuts off the top and scoops out
all the yucky stuff.
He removes:
The seeds of doubt....
The seeds of hate....
The seeds of greed....
Then He carves you a new smiling face
and puts His light inside of you to
shine for all the world to see.
~ Unknown

Return to Index of Halloween Quotes

Want the Coolest Pumpkin in the Neighborhood?
It's Easy with Pumpkin Stencils!
All stencils are rated by difficulty level.
Even the easiest stencils, looks like a master pumpkin carver created your masterpiece.
Great selection of stencils include:
• Disney characters
• Twilight cast
• Harry Potter
• Michael Jackson
• Monsters
• Ghosts ... and so much more!
Order your pumpkin stencils NOW!
---
Haunted House Standee
Set up an eerie Haunted House Standee and spook the neighbors this Halloween.
The cardboard standee measures 10 feet high x 9 feet 8 inches wide x 1 foot deep. Assembly required.

BUY HAUNTED HOUSE NOW!

The witches fly Across the sky, The owls go, "Who? Who? Who?"
The black cats yowl And green ghosts howl, "Scary Halloween to you!"
~ Nina Willis Walter
'Tis now the very witching time of night,
When churchyards yawn and hell itself breathes out
Contagion to this world.
~ William Shakespeare
'Tis the night - the night
Of the grave's delight,
And the warlocks are at their play;
Ye think that without
The wild winds shout,
But no, it is they - it is they.
~ Arthur Cleveland Coxe
One need not be a chamber to be haunted;
One need not be a house;
The brain has corridors surpassingMaterial place.
~ Emily Dickinson
Men say that in this midnight hour,
The disembodièd have power
To wander as it liketh them,
By wizard oak and fairy stream.
~ William Motherwell
Hobgoblins know the proper way to dance:
Arms akimbo, loopy legs askew,
Leaping into darkness with delight,
Lusting for the ecstasy of fright,
Open to the charm of horrors new....
~ Nicholas Gordon, poemsforfree.com
O horror! Horror! Horror! Tongue nor heart Cannot conceive nor name thee!
~ Shakespeare

Return to Index of Halloween Quotes
National Geographic presents an insightful video about Halloween. From Communion with the dead to pumpkins and pranks Halloween is a patchwork holiday stitched together cultural, religious and occult traditions that spans centuries. Learn more.
Return to Index of Halloween Quotes

---
Return to Celebration Quotes - from Halloween Quotes
Return to Inspiration Oasis Home Page

Like this Page?