Oldies But Goodies Party Plan
The Oldies but Goodies party theme is great for birthday parties of "older" individuals, music themed parties, and retirement parties.

This party plan comes complete with invitations, decorations, food, music, game, and gift ideas.
The Oldies-but-Goodies Party Theme was inspired by the following quote:
"I love everything that's old: old friends, old times,
old manners, old books, old wines."
~ Oliver Goldsmith


For the party invitation, anything with a Jukebox or Vinyl Records would be appropriate, like the invitation shown above.
For a large collection of suitable invitations, click here.

Return to Index
BUY This 50's Record Arch Decoration.

You can have so much fun with decoration for the Oldies-but-Goodies Themed party.

You can get something like what is shown above or the old 50's Dinner shown below.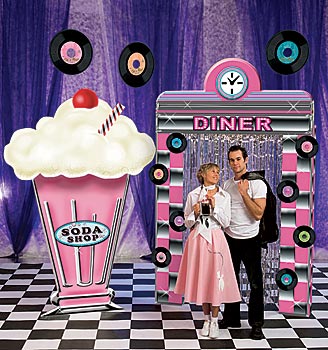 The menu for this theme would be quite simple.

Something like burgers and fries with ice cream floats.

Depending on the type of party you are throwing, you'd have a birthday cake or a retirement cake etc.

Return to Index
The music for this party would be all of your favorite Oldies but Goodies.

You can ask your guests to dress in line with the 50's...

Poodle skirts and bobby socks for the girls and jeans, T-shirts, and slicked back hair for all of the Fonzie want-a-bees.
Be prepared to dance the night away.

Return to Index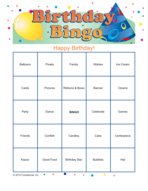 Birthday Bingo

This is your classic Bingo game pre-filled with Birthday items.

With our Game Card Generator, you get a different Birthday Bingo Card for each player- even if you have 200 players! Call card included.

---
Birthday Charades and Pictionary

Keep the entire group entertained for hours!

Play in teams or individually in this fun game of Charades or Pictionary with over 100 different cards.

---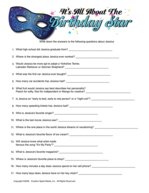 It's All about the Birthday Star

Have guests fill in this questionnaire about the party star and find out who really knows them the best!

---
Golden Oldies

Players may just break into a little song as they compete in this game!

The 'old timers' and nostalgia buffs will probably remember the words to "It's My Party"... but will they remember who sang it?

Answer key included.
---
Inventors never retire, they just reinvent themselves!

A witty addition to any party that will surely guarantee 100% participation and belly laughs!

Guests race to fill in statements about why different professionals will never retire.

Answer key included.

---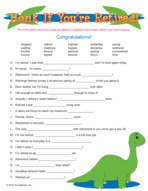 Treat your guests to the perfect break from toasts or speeches by adding in a little competition, not to mention laughs!

Players use a list of words to complete famous slogans about retirement. For example, "Retired not ______!"

Answer key included.

---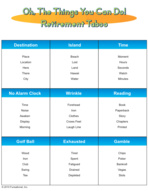 Oh, The Things You Can Do! Retirement Taboo
One door is closing and another is opening... from gold watches to Mojitos, visiting The Louvre or kayaking the rapids, and of course wrinkles and rocking chairs!

Treat the retiree to a rousing game of Retirement Taboo that covers everything they have to look forward to.

---
Ipod meets Jukebox

Beautiful marriage of the vintage with high-tech.

Nice gift to bring back the happy memories of the "good old days".

Return to Index
---
---
Return to Inspiration Oasis Home Page - from Oldies but Goodies Party


Like this Page?