Thanksgiving Day Prayers
Enjoy this collection of Thanksgiving Day prayers. Find the right prayer to make that special Thanksgiving Dinner. This collection ranges from prayers suitable for children to the Psalms to classics from noted literary giants like Ralph Waldo Emerson.

Lord, so often times, as any other day
When we sit down to our meal and pray

We hurry along and make fast the blessing
Thanks, amen. Now please pass the dressing

We're slaves to the olfactory overload
We must rush our prayer before the food gets cold

But Lord, I'd like to take a few minute more
To really give thanks to what I'm thankful for

For my family, my health, a nice soft bed
My friends, my freedom, a roof over my head

I'm thankful right now to be surrounded by those
Whose lives touch me more than they'll ever possibly know

Thankful Lord, that You've blessed me beyond measure
Thankful that in my heart lives life's greatest treasure

That You, dear Jesus, reside in that place
And I'm ever so grateful for Your unending grace

So please, heavenly Father, bless this food You've provided
And bless each and every person invited

Amen!

~ Scott Wesemann

Return to Index of Thanksgiving Day Prayers
Thank you God for all that grows,
thank you for the sky's rainbows,
thank you for the stars that shine,
thank you for these friends of mine,
thank you for the moon and sun,
thank you God for all you've done!
~ Author Unknown

Return to Index
Make Your Guests Feel Special - Order Delicious Cookie Placecards
"A person's name is to that person, sweetest, most important sound in any language." ~ Dale Carnegie
---
Dear Lord, thank you for this food.
Bless the hands that prepared it.
Bless it to our use and us to your service.
And make us ever mindful of the needs of others.
Through Christ our Lord we pray.
Amen.

~ Author Unknown
 

Return to Index
O God, when I have food,
help me to remember the hungry;

When I have work,
help me to remember the jobless;

When I have a home,
help me to remember those who have no home at all;

When I am without pain,
help me to remember those who suffer,

And remembering,
help me to destroy my complacency;

bestir my compassion,
and be concerned enough to help;

By word and deed,
those who cry out for what we take for granted.

Amen.

~ Samuel F. Pugh


Return to Index of Thanksgiving Day Prayers
When turkey's on the table laid,
And good things I may scan,
I'm thankful that I wasn't made
A vegetarian.

~ Edgar A. Guest


Return to Index
Want to send a
REALLY Funny eCard?
Imagine the surprise on the recipient's face when they receive a hilarious ecard with their face and/or your face on the animated characters.
Must see!
"Laughter is the shortest distance between two people." ― Victor Borge
---
Come, Lord Jesus, our guest to be
And bless these gifts
Bestowed by Thee.
And bless our loved ones everywhere,
And keep them in Your loving care.
~ Moravian Blessing


Return to Index of Thanksgiving Day Prayers

My soul, give thanks to the Lord, all my being, bless His holy name.

My soul, give thanks to the Lord and never forget all His blessings.

It is He who forgives all your guilt, who heals every one of your ills,
Who redeems your life from the grave, who crowns you with love and compassion,

Who fills your life with good things, renewing your youth like an eagle's.

The Lord does deeds of justice, gives judgment for all who are oppressed.

He made known His ways to Moses and His deeds to Israel's sons.

The Lord is compassion and love, slow to anger and rich in mercy.

His wrath will come to an end, He will not be angry forever.

He does not treat us according to our sins, nor repay us according to our faults.

For as the heavens are high above the earth so strong is His love for those who fear Him.

As far as the east is from the west, so far does He remove our sins.

As a father has compassion on his sons the Lord has pity on those who fear Him.

For He knows of what we are made, He remembers that we are dust.

As for man, his days are like grass, he flowers like the flower of the field;

The wind blows and he is gone and his place never sees him again.

But the love of the Lord is everlasting upon those who hold Him in fear;

His justice reaches out to children's children when they keep His covenant in truth, when they keep His will in their mind.

The Lord has set His sway in heaven, and His kingdom is ruling over all.

Give thanks to the Lord, all His angels, mighty in power, fulfilling His word, who heed the voice of His word.

Give thanks to the Lord, all His hosts, His servants who do His will.

Give thanks to the Lord, all His works, in every place where He rules.

My soul, give thanks to the Lord.

~ Author Unknown


Return to Index of Thanksgiving Day Prayers
O God of all Creation:

You have cared for the earth, and have filled it with your riches.
Abundance flows in your steppes, through the pastures and wilderness.
You provide for our land, softening it with showers, bathing it in light, and blessing it with growth.

The hills sing with joy; the meadows are covered with flocks; the fields deck themselves with wheat; and together they glorify your name!

On this occasion of our Thanksgiving, we as a nation take rest from our labors to consider your many blessings.

We thank you for our freedoms, and for the opportunity to contribute our skills, our attributes and our values toward the good of society.

We thank you for the mixture of our cultures, blending us into one people under God.

Help us to be a light unto other nations, and to further the cause of freedom and justice all over the world.

We remember those who are less fortunate than we. We lift up in prayer the victims of poverty and racism, and all those who suffer from forms of political and economic oppression.

Let the word that goes forth from our mouths speak of your peace, and let us proclaim our hope in Christ as Savior of all humankind.

We pray that you will bless all those who gather here, as we have come to experience your presence among us.

Give us your guidance, O God, and empower us for your work.

For we claim nothing for ourselves, but return all honor and glory unto you, and offer our thanks and praise.

Amen.

From "Prayers for God's People"
Thomas P. Roberts, editor

Return to Index of Thanksgiving Day Prayers
I will extol thee, O Lord, for thou hast drawn me up, and hast not let my foes rejoice over me. O Lord my God, I cried to thee for help, and thou hast healed me. O Lord, thou hast brought up my soul from Sheol, restored me to life from among those gone down to the Pit.
Sing praises to the Lord, O you his saints, and give thanks to his holy name. For his anger is but for a moment, and his favor is for a lifetime. Weeping may tarry for the night, but joy comes with the morning.
As for me, I said in my prosperity, 'I shall never be moved.' By thy favor, O Lord, thou hadst established me as a strong mountain; thou didst hide thy face, I was dismayed.
To thee, O Lord, I cried; and to the Lord I made supplication; 'What profit is there in my death, if I go down to the Pit? Will the dust praise thee? Will it tell of thy faithfulness? Hear, O Lord, and be gracious to me! O Lord, be thou my helper!'
Thou hast turned for me my mourning into dancing; thou hast loosed my sackcloth and girded me with gladness, that my soul may praise thee and not be silent. O Lord my God, I will give thanks to thee for ever.

~ Bible - Psalm 30


Return to Index of Thanksgiving Day Prayers
Make a joyful noise unto the LORD, all ye lands.

Serve the LORD with gladness:
come before his presence with singing.

Know ye that the LORD he is God:
it is he that hath made us, and not we ourselves;
we are his people, and the sheep of his pasture.

Enter into his gates with thanksgiving,
and into his courts with praise:
be thankful unto him, and bless his name.

For the LORD is good;
his mercy is everlasting;
and his truth endureth to all generations.

~ Bible - Psalm 100

Return to Index of Thanksgiving Day Prayers
Praise the Lord.

I will give thanks to the Lord with my whole heart, in the company of the upright, in the congregation.

Great are the works of the Lord, studied by all who have pleasure in them.

Full of honor and majesty is his work, and his righteousness endures for ever.

He has caused his wonderful works to be remembered; the Lord is gracious and merciful.

He provides food for those who fear him; he is ever mindful of his covenant.

He has shown his people the power of his works, in giving them the heritage of the nations.

The works of his hands are faithful and just; all his precepts are trustworthy,
they are established for ever and ever, to be performed with faithfulness and uprightness.

He sent redemption to his people; he has commanded his covenant for ever. Holy and terrible is his name!

The fear of the Lord is the beginning of wisdom;
a good understanding have all those who practice it. His praise endures for ever!

~ Bible - Psalm 111

Return to Index of Thanksgiving Day Prayers
---
This is a great gift for birthdays, family reunions, or any other special occasion.
Imagine the fun of putting together a puzzle with friends and family that captures those special moments in life you want to last forever.
"A photograph can be an instant
of life captured for eternity
that will never cease
looking back at you."
― Brigitte Bardot

---
Thanksgiving

For each new morning with its light,
For rest and shelter of the night,
For health and food,
For love and friends,
For everything Thy goodness sends.

~ Ralph Waldo Emerson


Return to Index
Father all-powerful,

Your gifts of love are countless and Your goodness infinite.

On Thanksgiving Day we come before You with gratitude for Your kindness: open our hearts to concern for our fellow men and women, so that we may share Your gifts in loving service.

We ask this through our Lord Jesus Christ, your Son, Who lives and reigns with You and the Holy Spirit, one God, for ever and ever.

Amen.

~ Author Unknown

Return to Index of Thanksgiving Day Prayers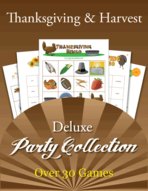 Deluxe Thanksgiving and Fall Harvest
Games Collection
Over 30 Fall & Harvest and Thanksgiving games, including all new games and Personalize It! games as well.

Answer keys are always included.
---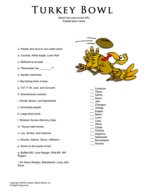 Turkey Bowl

What's the number one sport viewed on Thanksgiving day?

Football, of course! See who will be the first sports fan to match these NFL teams from the clues given.

Answer key included.
---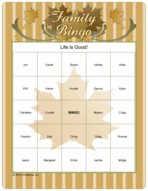 Thanksgiving Family Bingo
This fun bingo twist is one guests will love!

Instead of random words in the squares, type in their names! Guests will be delighted when they hear their name called.

Perfect for Thanksgiving holiday parties and of course, Family Reunions.

Generator makes multiple cards, just tell it how many guests you have, type in your words, and it makes them all for you! Call card included.

---
Return to Index of Thanksgiving Day Prayers
Heavenly Father, on Thanksgiving Day

We bow our hearts to You and pray.

We give You thanks for all You've done
Especially for the gift of Jesus, Your Son.

For beauty in nature, Your glory we see
For joy and health, friends and family,
For daily provision, Your mercy and care
These are the blessings You graciously share.

So today we offer this response of praise
With a promise to follow You all of our days.

~ Mary Fairchild


Return to Index of Thanksgiving Day Prayers
We gather together to ask the Lord's blessing;
He chastens and hastens His will to make known.

The wicked oppressing now cease from distressing.
Sing praises to His Name; He forgets not His own.

Beside us to guide us, our God with us joining,
Ordaining, maintaining His kingdom divine;

So from the beginning the fight we were winning;
Thou, Lord, were at our side, all glory be Thine!

We all do extol Thee, Thou Leader triumphant,
And pray that Thou still our Defender will be.

Let Thy congregation escape tribulation;
Thy Name be ever praised! O Lord, make us free!

~ Adrianus Valerius translated by Theodore Baker


Return to Index of Thanksgiving Day Prayers
Our Father in Heaven,
We give thanks for the pleasure
Of gathering together for this occasion.

We give thanks for this food
Prepared by loving hands.

We give thanks for life,
The freedom to enjoy it all
And all other blessings.

As we partake of this food,
We pray for health and strength
To carry on and try to live as You would have us.

This we ask in the name of Christ,
Our Heavenly Father.

~ Harry Jewell


Return to Index of Thanksgiving Day Prayers
We thank you God for fulfilling all our needs and blessing us with this food. Thank you for each person who shares this meal with us today.
On this auspicious day, let us not forget those who are less fortunate than us. O God, meet their needs and provide them with food and blessings as well.
And above all, O God, teach us to promote compassion and mutual respect and to strive for peace and harmony in our world.
Let us learn to live in religious harmony so that we may have the courage to reject and oppose hate, injustice, exploitation, and oppression.

~ Tarunjit Singh Butalia


Return to Index of Thanksgiving Day Prayers
---
Return to Inspirational Prayers - from Thanksgiving Day Prayers
Return to Inspiration Oasis Home Page
Like this Page?