Engagement Party Invitations
It's time to think about engagement party invitations now that he finally popped the question and you are now engaged! You want to tell the world and celebrate.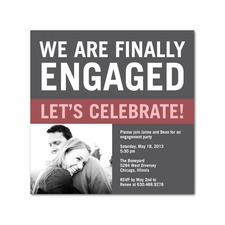 Learn all about engagement party invitations.
Find out which are best in class, most economical, and even most unique and versatile.
I've provided a great selection of quotes suitable for an engagement invitation along with samples for wording of the invitation.
---
Best In Class for Traditional Paper Invitations
Most Economical Invitations
Most Unique and Versatile Invitations
Quotes Suitable for Engagement Party Invitations
Suggestions on Wording of Engagement Invitations
Examples of Wording for Engagement Invitations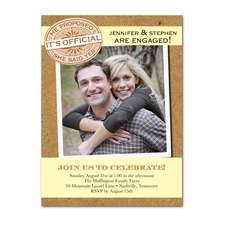 I have chosen Wedding Paper Divas as the best in class for traditional paper invitations because they have a large selection of customizable engagement party invitations.
The creation of your invitation is easy and intuitive.
There are lots of styles available to suit your taste.
They provide a free proof of invitation before printing your order.
They also provide for the option to pre-printed return address on the envelops for a nominal fee. What a timesaver!

Even get a Free Wedding Website from Wedding Paper Divas.


Smilebox was chosen as most unique and versatile because your invitation can be customized with photos, videos, music, and event details that can be emailed, printed, posted to facebook, made into a collage, scrapbook, or even a slideshow.
SmileBox has a
Free 14 Day Trial Offer
so you can see if this option is right for for you RISK-FREE!
You can even use Smilebox to create a slide show for the reception or a digital scrapbook of the wedding.

I have found the one whom my soul loves.
~ Bible - Song of Solomon 3:4

Love is just a word until someone comes along to give it meaning.
~ Unknown

Love is composed of a single soul inhabiting two bodies.
~ Aristotle

What lies behind us,
and what lies before us
are tiny matters
compared to what lies within us.
~ Ralph Waldo Emerson

Life without love is like a tree
Without blossom and fruit.
~ Khalil Gibran

A heart that loves is always young.
~ Greek Proverb

To love and be loved is to feel the sun from both sides.
~ David Viscott

Oh my love's like a red, red rose
That's newly sprun in June
Oh my love's like a melody
That's sweetly sung in tune
~ Robert Burns

There is only one happiness in life,
to love and be loved.
~ George Sand

To get the full value of joy
You must have someone to divide it with.
~ Mark Twain

We are, each of us angels with only one wing;
and we can only fly by embracing one another.
- Luciano de Crescenzo

True love stories never have endings.
~ Richard Bach

Love is the master key that opens the gates of happiness.
~ Oliver Wendell Holmes

Some love lasts a lifetime. True love lasts forever.
~ Unknown

Where there is love there is life.
~ Mahatma Gandhi

You know you're in love when you can't fall asleep
because reality is finally better than your dreams.
~ Dr. Seuss

Love reminds you that nothing else matters.
~ Amy Bushnell


---
Return to Inspiration Oasis Home Page from Engagement Party Invitations
Like this Page?